Archived News Item
Response to Hicks letter from Minister's office
September 28, 2006
In our last edition of Mercy M@tters we reported that Sister Caroline Ryan, on behalf of the Institute, had sent a letter to Prime Minister John Howard, Attorney-General Philip Ruddock and Minister Alexander Downer expressing concern about the continued detention of Australian citizen, David Hicks at Guantanamo Bay. Read Caroline's letter here. We also told you that at the time of publishing, we had not received a response from the Prime Minister's office or the offices of the other two ministers. In this edition of Mercy M@tters, we publish a response received from Mr Adam McCarthy on behalf of Minister Downer.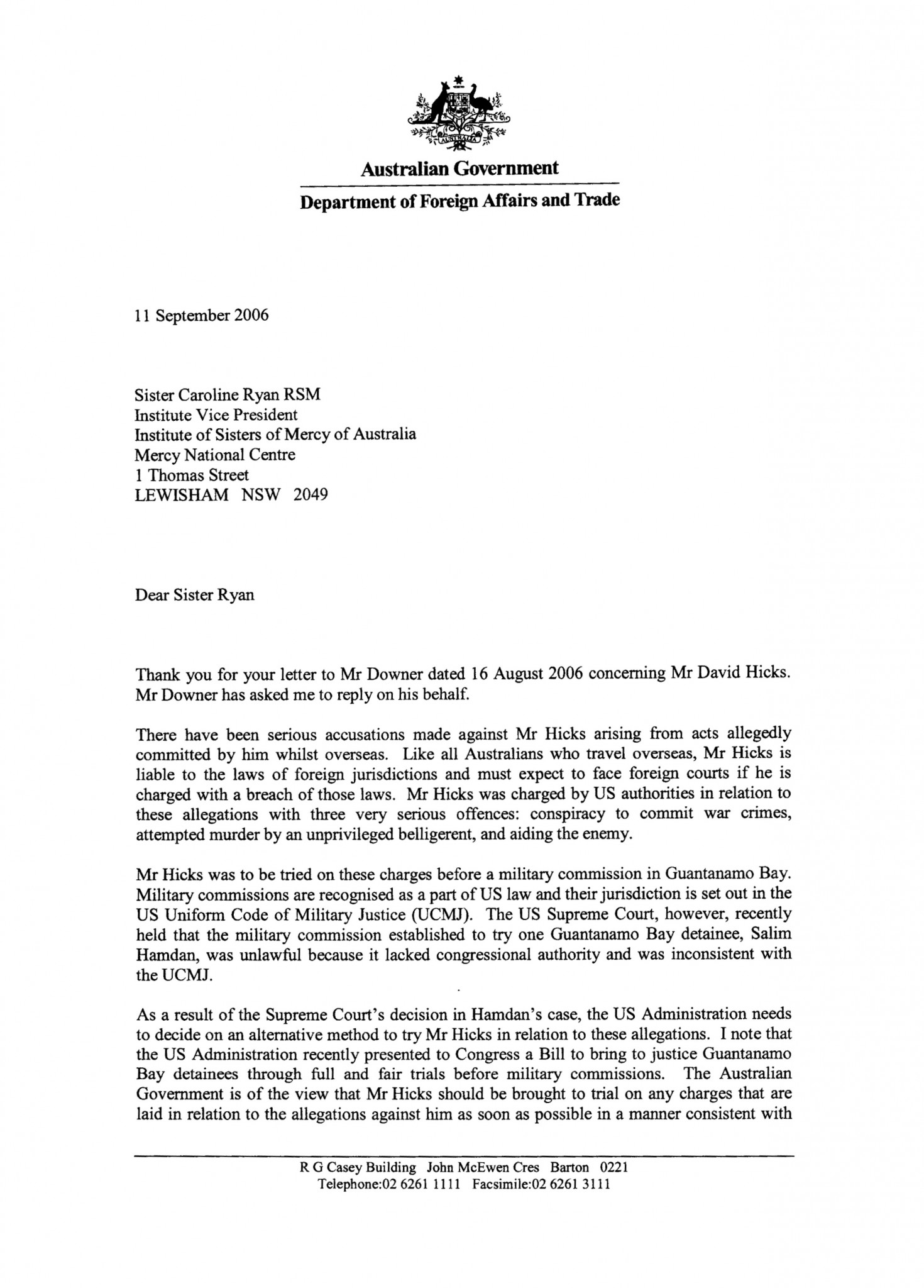 11 September 2006
Sister Caroline Ryan RSM
Institute Vice President
Institute of Sisters of Mercy of Australia
Mercy National Centre
I Thomas Street
LEWISHAM NSW 2049
Dear Sister Ryan
Thank you for your letter to Mr Downer dated 16 August 2006 concerning Mr David Hicks. Mr Downer has asked me to reply on his behalf.
There have been serious accusations made against Mr Hicks arising from acts allegedly committed by him whilst overseas. Like all Australians who travel overseas, Mr Hicks is liable to the laws of foreign jurisdictions and must expect to face foreign courts if he is charged with a breach of those laws. Mr Hicks was charged by US authorities in relation to these allegations with three very serious offences: conspiracy to commit war crimes, attempted murder by an unprivileged belligerent, and aiding the enemy.
Mr Hicks was to be tried on these charges before a military commission in Guantanamo Bay. Military commissions are recognised as a part of US law and their jurisdiction is set out in the US Uniform Code of Military Justice (UCMJ). The US Supreme Court, however, recently held that the military commission established to try one Guantanamo Bay detainee, Salim Hamdan, was unlawful because it lacked congressional authority and was inconsistent with the UCMJ.
As a result of the Supreme Court's decision in Hamdan's case, the US Administration needs to decide on an alternative method to try Mr Hicks in relation to these allegations. I note that the US Administration recently presented to Congress a Bill to bring to justice Guantanamo Bay detainees through full and fair trials before military commissions. The Australian Government is of the view that Mr Hicks should be brought to trial on any charges that are laid in relation to the allegations against him as soon as possible in a manner consistent with the Supreme Court's ruling. The Australian Government will continue to press for Mr Hicks' case to be dealt with expeditiously and fairly.
The Australian Government provides consular assistance to Mr Hicks, as we do for all Australians facing court or in gaol overseas. Australian officials visit Mr Hicks at Guantanamo Bay regularly and are satisfied that Mr Hicks is being treated humanely. The most recent visit by consular officials to Guantanamo Bay was on 8 June, during which Mr Hicks told the Consul-General that he was "fit and well".
Thank you for bringing your views to the attention of the Government.
Yours sincerely
Adam McCarthy
Assistant Secretary
International Legal Branch