Archived News Item
Report from Refugee Alternatives Conference Melbourne – February 2018
March 27, 2018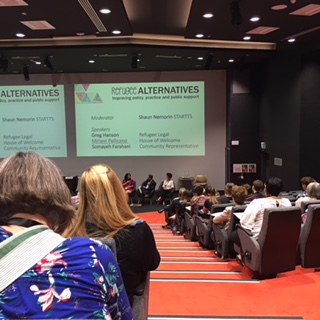 Lorraine Phelan RSM recently attended the Refugee Alternatives Conference in Melbourne along with a small group of other Sisters. She reports on her experiences here:
---
I, together with a small band of Mercies, namely – Deirdre Gardiner RSM, Joan Kelleher RSM, Marg Moore RSM, Rosemary Patterson RSM with four of the Jesuit Refugee Service volunteers engaged in the NILS programme with Mercy, attended the above Refugee Alternatives Conference, the theme of which was improving policy, practice and public support. We were a small number of an "older generation" which has been involved in this sector for a long time. It was very heartening for us to see the number of younger people now working in this sector AND MORE IMPORTANTLY to see refugees themselves – people with their own lived experience – who have been educated and settled here in Australia being the moderators or speakers at this Conference – 58% in fact. As always it was great to interact and catch up with former colleagues, staff members and those who had taken over roles we had once held.
All present recognised that indeed it is a very challenging time to be involved in supporting asylum seekers and refugees in Australia in the light of current Government policy.
The first challenge came to us when it was voiced – What can we do together, regardless of what the Australia Government says or does, to make a difference to those in Australia and for those on Manus? How can we work together for equity and justice for these most marginalised in our society?
The plight of the Rohingas from Myanmar (formally Burma) was raised a number of times throughout the Conference. 647,000 Rohingas have fled to Bangladesh since 2017. Ethnic cleansing of this group of Refugees has been going on for the past decade. At the end of this Conference a motion was passed requesting the Refugee Council of Australia to lobby the Australian Government to allow 20,000 Rohingas into Australia in the very near future. This is presently a huge humanitarian crisis.
We were reminded that refugee protection is a Global issue and has been for some time, so all countries globally need to take responsibility whether or not they are currently housing refugees or not. Hence we as a small Mercy cohort asked – as we have a Mercy presence in PNG how can we influence what is happening with asylum seekers still on Manus Island? Another challenge for us as Mercy women.
Other areas which were raised and which could be relevant, challenge us and in which we could be involved are:
Working with the Australian Government on a programme of action to bring about change to end cruel, indefinite detention in remote off-shore centres.
Support the meaningful participation of people from refugee backgrounds and let them have their own voice. Let's not always speak for them when they are able to speak for themselves. Work with them to be able to do this and stand beside them.
Be compassionate listeners showing no judgement. Let refugees share their stories when they want and you tell yours. Real listening is SO empowering of the individual and validates them in that space.
Listen to and support refugee women and girls. There is a lot of stigma for them trying to live within a new culture in order for them to reach their dreams and fullest potential.
Find ways to involve asylum seekers in the community.
Be patient and remember, for some resettlement in a new country takes a lifetime and for some families – generations.
Address issues of racism as an individual and as a group of Mercies. Racism is rife at the moment on all levels, in congregations, families, schools, and in the community. If we stand by and are silent we are condoning it!! Stand up against racism.
Provide opportunities for refugees for employment. Help train them into jobs if necessary.
Mentor refugees to become true Leaders in their own community and in the wider community.
Show solidarity with those on Manus simply by standing with arms crossed above your head and put it on Facebook with a supportive caption and continue to pray for them daily.
Engage refugees themselves when you are writing letters in relation to policy changes. They are the ones with lived experience.
Meet with or write to your local member when you are unhappy with current policy e.g. around current Temporary Protection Visas (TPV's) which are creating an underclass of vulnerable people. Letters DO make a difference. Each letter is a vote.
Don't be a bystander – be an upstander!!
A final challenge for us Mercies present at the end of this time together was – how can we be more supportive and  collaborate with each other nationally working in the asylum seeker/refugee movement and be seen to be doing this.
Change is coming and we can all be part of that change through action – if we want to be.
Further information can be found on the Refugee Council of Australia website within the coming weeks – refugeecouncil.org.au
Messages to: Lorraine Phelan RSM