Archived News Item
Remembering Sr Bridget Carr RSM
August 29, 2018
Sr Bridget Carr RSM, died peacefully on August 7, having lived 82 of her remarkable 98 years of life as a Sister of Mercy. Sr Bridget has been remembered for the wonderful person she was and the significant contribution she made in the history of the Sisters of Mercy in Australia.
Patricia Lake RSM prepared the following words of remembrance.
---
Sister Bridget Carr RSM (formerly Sr Maria Joseph Carr RSM) Words of Remembrance: 14th August 2018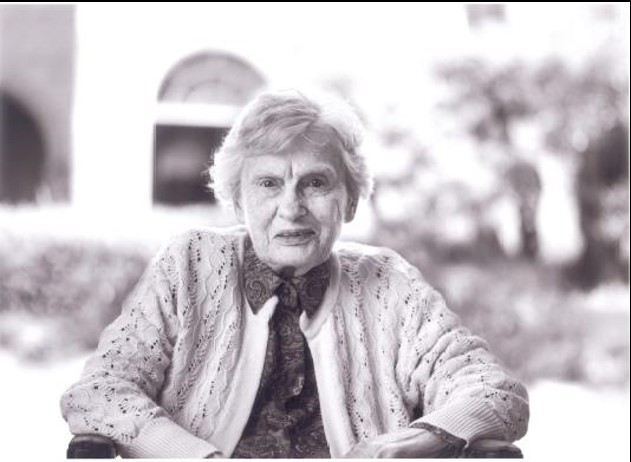 As we gather today to remember and honour Sr Bridget Carr, we think of a complex human being: a woman of naturally anxious temperament, tentative, almost apologetic at times, humble, and unassuming, yet blessed with a brilliant intellect, capable and confident in the ministries to which she was appointed or elected, widely respected and admired in the public offices to which she was called.
I think of her as a living, walking, talking compendium of Mercy history in this country for the past century: at age 98, she was but 2 years short of that time, and 82 of those years were lived as a Sister of Mercy. I find it difficult to think about her as separate from the developing history of the Mercy Order in this country in which she was such a significant player, and to illustrate her true place in this history, we need to remember her in that context.
But first, let us reflect on her earlier years.
Bridget Mary was born 25th May 1920, the second child of Irishman, James Carr, and Winifred Doughan, of Irish descent. Her older sister Moira, and younger sister Sara, familiar to us as Sr Mary Malachy, and later as Sr Winifred Carr,  her brothers Jack and Kevin made up the family in which Bridget spent her childhood. Her mother's sister, Auntie Mary, was close to the family and cared for them after their mother died in the early 1950's.
At age 16, after being educated by the Sisters of Mercy at St Catherine's College in Singleton, Bridget entered the Novitiate there on the feast of St Joseph, 1937.  On 26th September 1942, she professed her final vows here in this chapel, kneeling on that altar step. She chose as her motto: My Love is Crucified. It was a motto she would have ample opportunity to live in the years ahead.
Sr Maria Joseph, as Bridget was now known, was appointed to the teaching ministry, and having gained the Catholic Primary and Super-Primary Teacher's Certificate in the second year of her Novitiate, was appointed to St Aloysius Girls High School at Hamilton, just around the corner from her family home.
Two years later she was recalled to Singleton, to teach at St Catherine's College, where most of the students were boarders. Some of those boarders, reflecting now on that time, remember this tall, willowy young Sister (she was all of 22 years old), a vibrant teacher, who burst upon the scene like a breath of fresh air, who commanded their respect and attention, and in numerous cases, their adolescent adoration. Simply, they loved her.
I am told that one of their number, a budding cartoonist, caricaturing all the teachers at that time in a cartoon poster, portrayed Maria Joseph as a whirlwind! That may come to lots of us as a shock, but gives us a vivid picture of Maria 76 years ago before many here present knew her. She was young, approachable, easy to talk to, refreshing.
In the years that followed, as Maria taught by day, she studied by night, enrolled as an external student that resulted in a Bachelor of Arts Degree from London in 1951, and a later, a Diploma in Education from Armidale in 1961. As she gained in confidence and experience, the College results in English, in particular, came in for comment and praise from those correcting Leaving Certificate papers. Who was this teacher whose students demonstrated such quality work?
I was shown the other day copy of a letter written to Maria in 2014, by a former pupil of this era, a member of a migrant family. It reads:
"When I met you in 1960…… I was sixteen and a half, new to Singleton, come to live with an aunt……. because our father was missing o/s. You gave me wings……. Your influence remains ongoing. In all the variation of life (I am 70) I have been, am, sustained by literature and the arts……. I thank you for your life-sustaining gifts (and in Dubbo I met others of your students that are equally blessed)".
This speaks volumes about her giftedness as a teacher, as well as her compassion and concern for the person being taught, and gives us some insight into why she is so lovingly remembered by her pupils. In fact this testimony could be repeated over and over as past pupils, who had caught fire from her, went on to excel in literary endeavours, and maintained contact with her, attributing that fire and their success to her influence.
Later appointed to the role of PrincipaI, Maria showed herself to be a competent leader and administrator and I am told by one of the sisters on the staff in those years that she knew how to "tick you off" when circumstances required. She was no smiling wimp!
In 1964, with her studies finished, but still teaching, Maria was appointed Local Superior of the Singleton Community, numbering at that time somewhere between 30 and 40 Sisters. Someone must have thought she needed some extra-curricular interests to extend her experience!
The Sisters of Mercy in Singleton had come from Ennis, in Ireland, and prided themselves on their faithfulness to the patterns of religious life as it had been lived in Ennis when they left in 1875.  In fact, the criterion of authenticity was that "It was NEVER done in Ennis"!
There was no thought when I entered in the 1940's that the way we lived religious life would ever change. But that surely was soon to be questioned by none other than Pope Pius X11. During the 1950's, he had been encouraging Religious Orders to "return to their roots", and for those who had the same Founder, to "strengthen their bonds of unity".
In response to these urgings of the Pope, the original 17 autonomous groups of Sisters of Mercy in Australia had, by 1957, already formed into the Union and the Federation, so every Sister in the country, and there were about 3000 of us, was a member of either one or other of these bodies. And during the following years many Sisters from both groups worked together on various commissions and committees.
A decade later, in 1965, Vatican 2 finished, and those of us who were part of those years remember it as a period of great upheaval in the Church as both the bishops and clergy …. and the lay people, struggled to implement the directives and recommendations of the Council.  Religious orders were caught up in that upheaval too, directed by the Council to examine "the needs of the members, the spirit of the founder and the signs of the times".
The end years of the 60's were a time of "Extraordinary Chapters", convened to consider these big questions, and resulting in a plethora of decisions, ranging from the least significant detail, such as the length of the habit or the time of rising, to important matters of ministry and formation.
Into this hectic era of great change on 12th December 1969, Maria Joseph was elected Provincial Superior of the Singleton Province of the Australian Union of the Sisters of Mercy.
She was 49, in those days young to be elected to such a position.  It was a challenging time for anyone in leadership in religious life.  As change was all about us, too fast for some, too slow for others, as many Sisters left, as others were sent off to study at Teachers' Colleges and Universities, as those who remained struggled to continue our ministries, Maria embraced the spirit of Vatican 2 and its particular challenge to religious.
She herself studied well the documents from the Council, and ensured we all had ample opportunity to become familiar with them.  As numerous weekends were devoted to attending lectures from various experts, educating us into the intentions of the Council, or meetings where we discussed the implications for our lives, there were times when some of us wished ruefully for the peace and quiet of former times, but overall the mood was one of eager anticipation.
Her grasp of the Council spirit and its significance for the whole Church, and for us Religious as part of that Church obviously became evident to the delegates attending the  General Chapter of the Union in Canberra in August, 1972, where Maria Joseph was elected Superior General.
Significantly, that same Chapter directed that the Superior General continue seeking means to strengthen the bond of unity within the Union, and between Union and Federation.
Sr Berenice Kerr rsm in her book The Land That I Will Show You speaks of the vigour with which Maria Joseph responded to this directive.  She writes:
"The policies of her period of administration….. must be recognised as a most significant contribution to the readiness for a new form of government for Australian Sisters of Mercy, as the unification movement matured in the next phase."
There was already, since 1967, a Conference of the Sisters of Mercy of Australia, in which Maria had been closely involved in her role as Provincial, and as part of various committees working on issues of concern to both Union and  Federation. Now, as Superior General, she was able to initiate steps which added momentum to the move towards unification, and she seized this opportunity with enthusiasm.
I remember her at the end of her term of office, as the President of the Chapter of the Union, in 1978, competent and decisive in dealing with those matters that needed to be referred to her, graciously hosting members of the Federation Executive who had been invited to attend the Chapter as observers, as the impetus towards unification gathered pace.
My most significant memory of her in that role however, was when she and other councillors had come to Singleton for canonical visitation. At the end, she addressed us at an Assembly of the whole Province.  I have no memory of what she said, but I remember vividly the feeling: my sense of wonder and admiration for what she said, and the way she presented it …. and a sense of pride that "this was one of us"!  And I'm told that as the Visitation moved around Provinces of the Union, similar responses of respect and admiration were expressed.
One important element of Maria's responsibility as Superior General concerned the mission of the Sisters of Mercy in PNG, a complicated series of separate missions established by a variety of Mercy groups, including the Union.  Of this situation Sr Dorothy Campion writes:
"The Sisters up there were well ahead of us in having to balance the demands of their ministry with the perceived requirements of Religious life "as she was lived". They also preceded us in the struggle for unification as Sisters of Mercy of PNG, including, as they did, sisters from many different congregations and indigenous sisters as well. The early stages of all that must have been very difficult and loaded with possibilities for conflict and misunderstandings at every level."
So it is significant that in her book Crossings of Mercy, Tess Flaherty who was part of PNG mission for many years wrote so positively of the two Union Leaders involved during these years:
"The complexities of changing community and ministry were not easy for the sisters to articulate on the ground, or for the Australian Union leaders to comprehend from afar.
The Australian Union leaders, Sister Mary Therese Moore (1966-1971) from Bathurst, and Sister Maria Joseph Carr (1972-1977) from Singleton, in Canberra, were very concerned for the sisters on mission, and for the integrity and renewal of religious life. They were solicitous and generous in their pastoral care and there was much soul-searching in their attempts, both to guide and to accompany the sisters ……………. "
Maria was highly sensitive to others and their needs, and this was a time of great flux and uncertainty both for the sisters in PNG and their Superiors back in Canberra. The fact that major conflict was avoided and positive solutions eventually found is tribute to all concerned.
On 20th August, 1978, Maria finished her term of office as Superior General, and before the end of that year she was already settled into the community at Hamilton, ministering to the many migrant women in the area, teaching them English, and visiting them in their homes.
In the 40 years that have followed, she would prepare herself for pastoral ministry through participation in two units of Clinical Pastoral Education, initiate the role of Pastoral Carer at the Mater hospital, serve as Local Superior, and become closely and personally involved in our ministry to the Aboriginal population in the Taree area, she and her sister Winifred joining Sr Pat Adams who had been working for years with the local aboriginal people.
Maria and Winifred established a tutoring programme, teaching young aboriginal people, some of whom were illiterate, to read, and then tutoring them to the stage where they were competent and confident enough to be admitted to the Teacher's Training School at Mount St, North Sydney. Now these young aboriginal teachers are to be found in both the Primary and Secondary Catholic schools in Taree, doing for their own people what Maria and Winifred did for them.
After their years in Taree, and with Winifred's health causing concern these two sisters were delighted to have the opportunity of living together. Their love of family had always been obvious, and over the years we often heard about Moira and Sid, Jack and Alice, Kevin and Julie, and their families. Now they loved and cared for each other on the spot, instead of worrying about one another from a distance! They frequently thanked their Superior for this gift.
But they didn't spend all their time loving one another! They continued their tutoring – just with different pupils, this time some Vietnamese women.
After Winifred died, Maria moved to the Singleton community for a short while, and in 2011, voluntarily moved into the low care section of Mercy Nursing Home here in Singleton. Because of the need for the paperwork to identify her as Bridget Carr, she decided to change her name officially.
During these past 7 years, Bridget has watched as many Sisters younger than herself have died. As her health deteriorated, she has become less able to converse, but much of the time able to communicate, by smile, or by hand pressure, that she was aware of our presence and words. There were times when the strong will inside her failing body showed its frustration by surprisingly strong movement.
But as one Sister who sat with her during her last hours said: she certainly knew how to die. Peaceful and calm, she was ready and waiting for her final call when it came last Tuesday morning.
Among the few papers she left behind was the following handwritten prayer from the Stanbrook Abbey Hymnal:
Spirit of God, on the waste and the darkness,
hov'ring in power as creation began,
drawing forth beauty from clay and from chaos,
breathing God's life in the nostrils of man,
Come and sow life in the waste of our being,
pray in us, form us as sons in the Son,
open our hearts to Yourself, Mighty Spirit,
bear us to life in the Three who are One.  
We leave you now, Bridget, to enjoy that life so longed for!
Sr Patricia Lake RSM
14th August, 2018
Messages to: Patricia Lake RSM