Archived News Item
REMEMBERING OUR PIONEER SISTERS
May 19, 2016
The first group of Sisters to come to Australia from Ireland on board the "Elizabeth" in September 1845 were a group of seven and one of them was a young woman, Anne Gogarty. At the age of twenty-nine, four years after her religious profession as a Sister of Mercy, she was chosen as a member of the group to travel to the Australian mission. However, as Sr. M Catherine she was to spend only six months in this new and challenging mission.
ANNE GOGARTY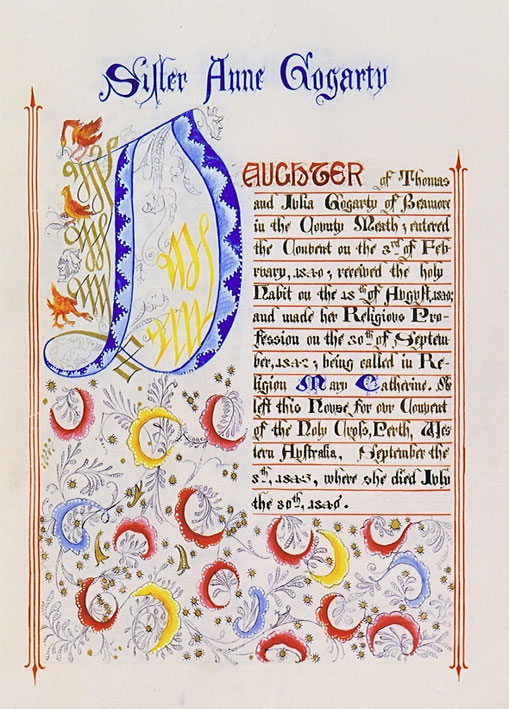 Anne Gogarty was born in County Louth, Ireland in 1817. At the time of her arrival in Australia she had only been professed as a Sister of Mercy for four years. She entered the Sisters of Mercy, Baggot Street, Dublin in February 1840 and her Religious Profession took place on 30th September, 1842. Her religious name was Sister Mary Catherine.
Sister M. Catherine died six months after her arrival in Western Australia. She had been in ill health before leaving Ireland and it was hoped that the sea voyage and change of air would be of benefit to her. However this was not to be.
During the short time she was here, Catherine was the Mother Assistant to Mother Ursula Frayne in the new foundation. Mother Ursula wrote to the Sisters in Ireland, "I don't know what I shall do when I lose her . . . I have depended perhaps too much on her . . . I would wish to be resigned and listen to the will of God. I often say so, but I fear my heart goes not with my words."
Sister Catherine died in the Convent of the Holy Cross in Perth on July 30th, 1846. She is buried in the grounds of the Convent of Mercy, Victoria Square, Perth, Western Australia.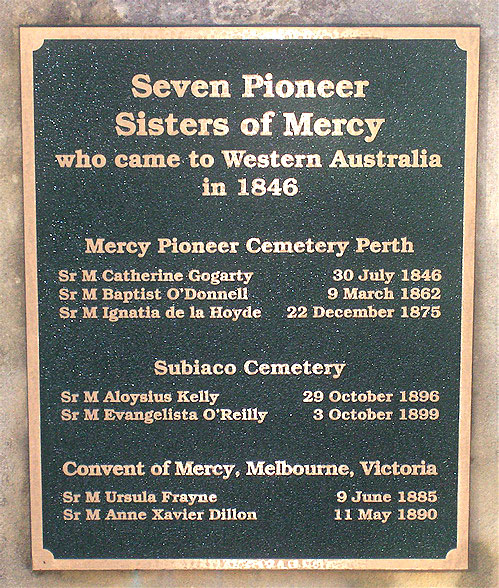 From the Sisters of Mercy Register, St. Catherine's Convent, Dublin, Ireland.
Text:
Daughter of Thomas and Julia Gogarty of Bramore in County Meath entered the Convent on 3rd February, 1840; received the holy Habit on 18th August 1840, and made her Religious Profession 30th September 1842; being called in Religion Mary Catherine. She left this House for our Convent of the Holy Cross, Perth Western Australia, September 8th 1845, where she Died 30th July 1846.
Taken from the booklet "The Pioneer Women" prepared by Joan Smith rsm