Archived News Item
REMEMBERING OUR PIONEER SISTERS
September 21, 2016
Among the small group of Sisters who travelled to Australia from Ireland on board the "Elizabeth" in September 1845 to form the first Australian Mercy community was

Ellen O'Donnell.

  A model of the Barque "Elizabeth" (seen above) is on display at Catherine McAuley Village, Wembley, WA. She had only been in the Convent for a year and a half when she was chosen as a member of the foundation group for the Australian mission. As Sr. Mary Baptist she was only to spend sixteen years in this new and challenging work.

ELLEN O'DONNELL
Ellen O'Donnell was born in County Tipperary, Ireland in 1816. She entered the Sisters of Mercy in Dublin on January 6, 1845. At the time of her arrival in Australia her religious name was Sister Mary Baptist and she was still a novice. Her Religious Profession took place in the Holy Cross Convent in Perth on July 2, 1847. After her Profession she wrote that she had "nothing to desire now as by (her) holy Profession all the wishes were fulfilled". Early on in the life of the community the Bishop was building a school house next to the Convent and she was told that she would be in charge of the school and accountable for the expenses. Also of note is the fact that some of her dowry was used in the building of a new convent.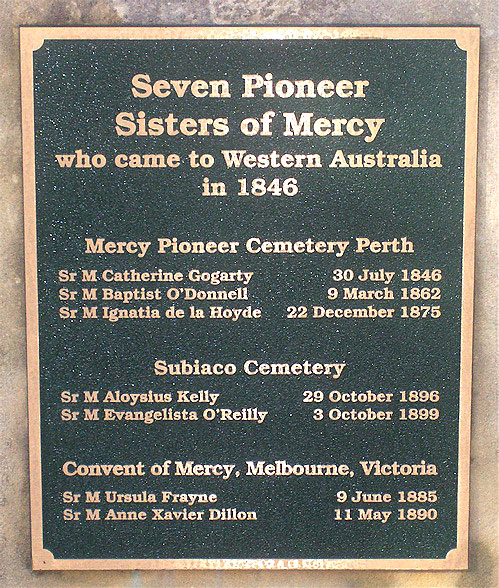 However, in 1856 Mother Ursula Frayne resigned as Mother Superior in order to move to Melbourne to establish the Sisters there. Sister M. Baptist was appointed Superior in July, 1856. Relationships between the Sisters and the Bishop had been proving difficult and it was hoped her appointment would contribute to peace in the future.


After Mother Ursula left, the remaining sisters worked valiantly in the schools at Perth and Guildford. However in 1861, the Guildford school had to be closed due to the illness of Mother M. Baptist and her premature death on March 9, 1862 was a severe blow to the community. She is buried in the Pioneer Cemetery, Convent of Mercy, Victoria Square, Perth.


Taken from the booklet "The Pioneer Women" prepared by Joan Smith rsm