Archived News Item
Remembering Our Beginnings
August 31, 2014
Mary Lowcock rsm, CRAQld Executive Officer, shares the 'Remembering Our Beginnings' story.
Early in 2012 Moya Campbell rsj and I visited Mr Mike Byrne at Queensland Catholic Education Commission (QCEC) to advise that in 2013 Catholic Religious Australia, Queensland (CRAqld) was to celebrate 50 years of religious congregations working together. QCEC wanted to mark this event in some significant way. QCEC saw it as important to perpetuate the stories of Religious Institutes that selflessly committed themselves to providing an education in the Catholic tradition for hundreds of thousands of young Queenslanders and suggested that Religious Institutes that had established Catholic Schools in Queensland be remembered by a display wall.
Initially the project was called the "Founding Wall". QCEC appointed Jennifer Adams who was on the QCEC staff at the time to research the project. After months of meetings, phone calls and emails Jennifer came to one of the CRAqld meetings with a plan of the project. Communication was set up between Jennifer (and then later by Margaret Knox who replaced Jennifer when she moved to another position), and the Leaders of the 29 Religious Institutes concerned. After months of designing, collecting photos, writing proofs, having statements checked and rechecked by the Leader (and archivist) of each Institute, the wall (which changed to being three panels) was finally completed earlier this year.
During Catholic Education Week this year the panels were blessed by Archbishop Mark Coleridge. The panels are called Remembering Our Beginnings. The panels record the Catholic Schools and their Principals that have been opened by Religious Institutes in Queensland since 1861.
Among those present were Catholic Religious Australia Queensland president Sisters of Charity Libbey Byrne, CRAQld executive officer Mercy Sister Mary Lowcock, Brisbane Sisters of Mercy congregation leader Sr Catherine Reuter and QCEC leaders including executive director Mike Byrne.
In his welcome, QCEC chair Professor Peter Sheehan said the display captured "the narrative strength" of the story of Queensland's dedicated religious men and women. The historical display "was a God-given opportunity" to recognise their work, he said.
Mr Byrne said the project had arisen as QCEC looked for a special way to celebrate last year's 50th anniversary of CRAQld. He referred to "the humble beginnings" of many large Catholic schools in the state. "It's amazing where our story has come from to where our story is today," he said. "Today, in just a little way, as QCEC, we say a big thanks to you all."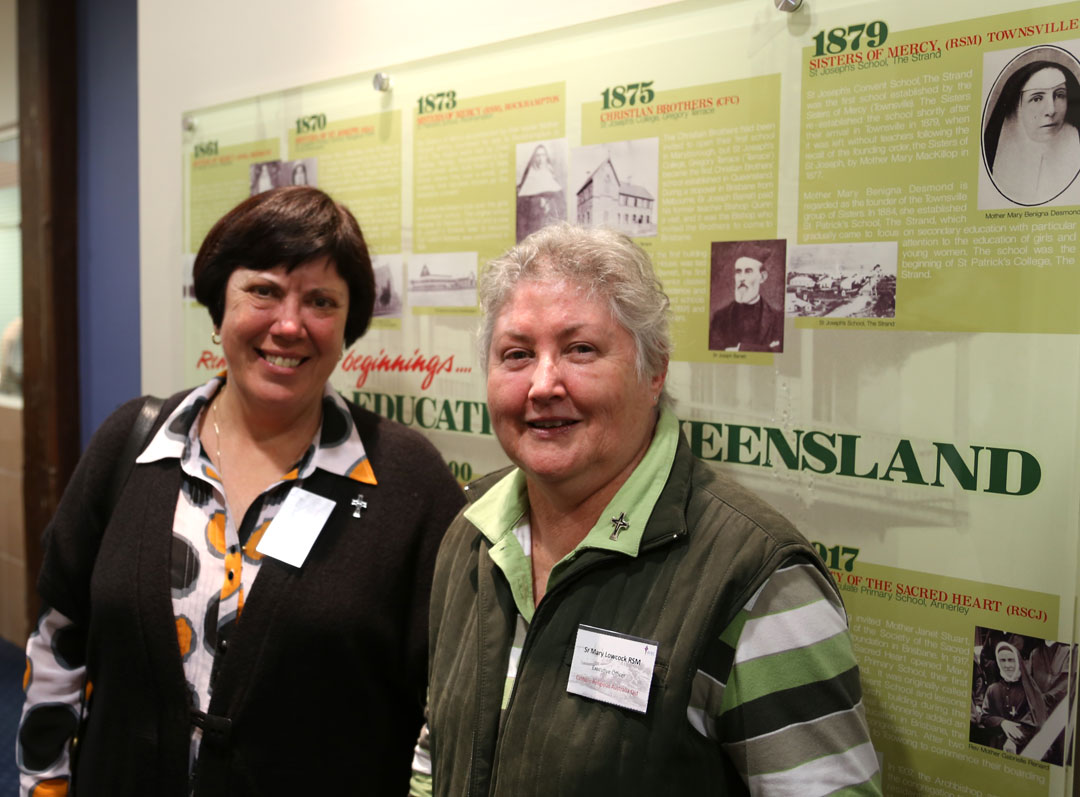 Paul Dobbin from The Catholic Leader was at the blessing and took the accompanying photo. If you look into the panel you will note that Cath Reuter rsm is standing (left) under the section marking the Brisbane Sisters of Mercy starting at All Hallows in 1861 and I am standing under the section depicting the Townsville Sisters of Mercy commencing at St Joseph's School in 1879.
Messages to Mary Lowcock rsm
CRAQld executive officer
Photo: Paul Dobbyn "The Catholic Leader" August 19, 2014.