Archived News Item
Remembering Mother Mary Stanislaus Kenny
March 25, 2010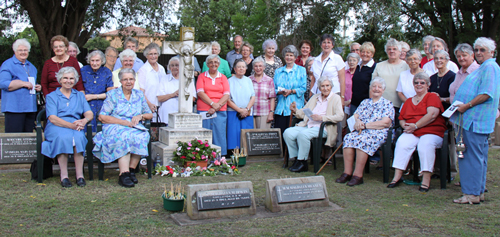 Singleton Sisters of Mercy hosted a lovely afternoon to the memory of Mother Mary Stanislaus Kenny on the 100th anniversary of her death, Friday, March 12. Mother Mary Stanislaus led the band of 10 sisters who came to Singleton, NSW, from Ennis in Ireland. Rita Hassett RSM (Singleton) reports.
Mary Kleinschafer RSM (Singleton) planned the event and, with help from Val O'Hara RSM (Singleton), provided a moving prayer and ceremony while Faith Jones RSM (Singleton Congregation Leader) led the ceremonies.
The processional walk from the community room in the convent to the sisters' cemetery brought memories of the many times they accompanied sisters on their final journey. The singing of the Litany of the Blessed Virgin, in Latin, at the grave site was full of reverence and nostalgia. In earlier years it was a custom that the litany was sung each Saturday afternoon in the chapel.
Research done by Mary over more than four years, and recounted briefly during the event, gave participants new insights into the life and family of Mother Stanislaus and the early days of the convent in Singleton.
Can we imagine that from a community of only 26 members, 10 were sent to Australia? And the home community of Ennis, itself only established five years, had already sent out two foundations earlier.
One Singletonian parishioner present remarked, "She must have been a great woman to be still celebrated 100 years after her death!"
The Irish afternoon 'comfortable cup of tea' (and more) brought extra memories of how it is done in Ennis!
Photo: Singleton Sisters of Mercy and friends gathered at the grave of Mother Mary Stanislaus Kenny 100 years after her death