Archived News Item
Remembering Mother Evangelista Fitzpatrick
July 6, 2020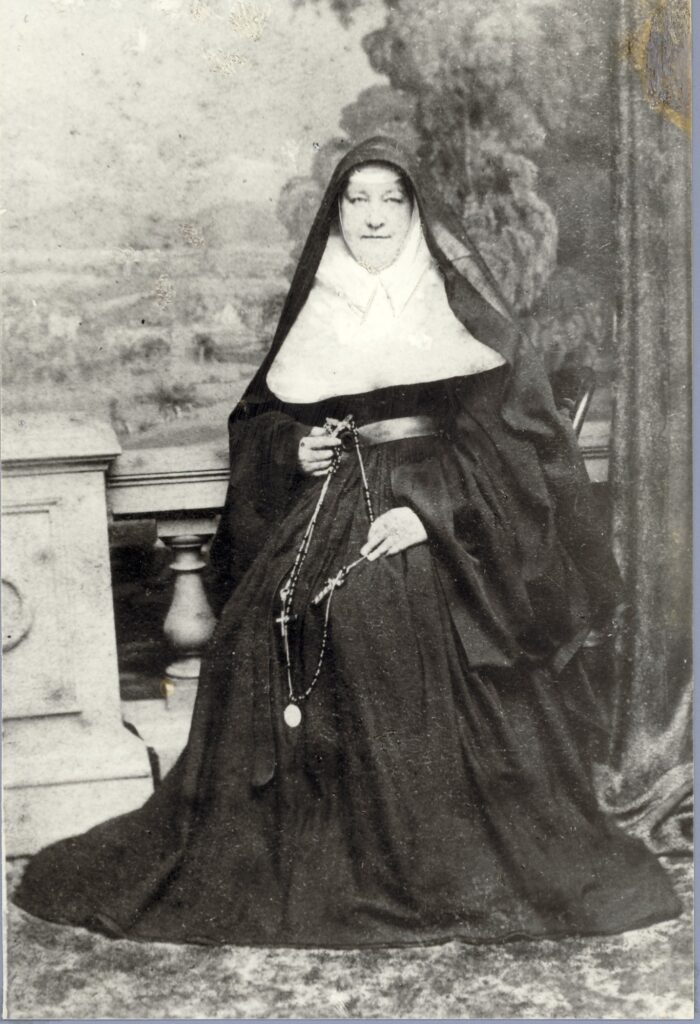 As part of the celebration of 140 years of the arrival of the Sisters of Mercy in Adelaide, Mother Evangelista Fitzpatrick has been remembered by Mary-Anne Duigan RSM. 
Evangelista Fitzpatrick was born on Christmas Eve 1822, into a family which was comfortably well-off. She was named Christina. Her mother Catherine was prominent in the Catholic social life of Dublin, and her father, Thomas, was something of a scholar, relatively well-known in the city's literary world. Thomas was also involved in political movements for Catholic Emancipation led by Daniel O'Connell. Both parents were religious and Thomas was active in work for the poor, especially orphaned children. Two sons became missionary priests, one a chaplain in the British army who died at the Khyber Pass, in the Punjab campaign of 1848 – 1849, one in the western frontier of the United States. Evangelista's younger sister also became a Sister of Mercy. It seems certain that the family knew Catherine McAuley for some time before Christina entered, perhaps through their charitable work, perhaps through their connection with Daniel O'Connell, a supporter of Catherine's work.
Christina entered Baggot St Convent not long before her 23rd birthday, on the eve of the Feast of Our Lady of Mercy, 23rd September, 1845. She received the habit on 25th March, the following year, from the hands of Rev. Mother Cecilia Marmion, and made her vows of profession on 28th March, 1848. Mother Vincent Whitty, who had been guided in the religious life by Catherine McAuley herself, was her mistress of novices.
Mother Austin Carroll described not only Evangelista's literary abilities, but also her 'unlimited charity' and her 'tender piety'. 'As a novice', Austin Carroll wrote, 'she exhibited the virtues characteristic of her long religious life – solid, unaffected piety, self-denial, charity, and exact observance of rule'.
During the cholera, which struck Dublin in 1849, she was the life and soul of the Sisters who ministered to the victims in the camp or shed hospitals of Glasnevin. Her abnegation was an inspiration to her fellow-workers – the fear of contracting the dreadful disease did not diminish their selfless dedication.
Following her novitiate, Evangelista's leadership qualities became apparent, and she was appointed to positions of governance, as Mother Bursar of Dublin convent and then as founding Reverend Mother of Buenos Aires. She retained the position of Reverend Mother in Adelaide.
Mother Evangelista is remembered as a strong and loving woman, with a rich personality. She had inherited her parents' empathy with those in need, which led to her work for the poor. To her early companions, she was something of a second Mother McAuley. To those who formed the community with whom she lived and worked, she was their much beloved 'darling Mother'.
She had been well-educated for women of her time and place, by the Loreto Sisters at Rathfarnham Abbey, Dublin, a prestigious school for girls established about 1822. Christina had inherited some of her father's literary flair, evident in her predilection for poetry and in the articulateness of the letters which survive. Her longing for good reading material was lifelong. . . .She persevered in sending to Europe and the United States for texts on newer developments in the church and on subjects of special interest to the sisters."
Her death, on 29th June, 1885, after a short illness of 8 days, is described in the Chapter book.
On the Feast of SS Peter and Paul our dearly beloved Rev. Mother Evangelista Fitzpatrick who governed our Community for 29 years went to meet her heavenly Spouse after a short illness of 8 days. Her death was beautiful and calm.
(Source: "Women on the Move. A History of the Adelaide Sisters of Mercy, Ireland to Argentina 1856 – 1880 to South Australia 1880" by Anne McLay RSM).
Messages to: maryand8@outlook.com