Archived News Item
Remembering Cecilia and Antonia
September 1, 2020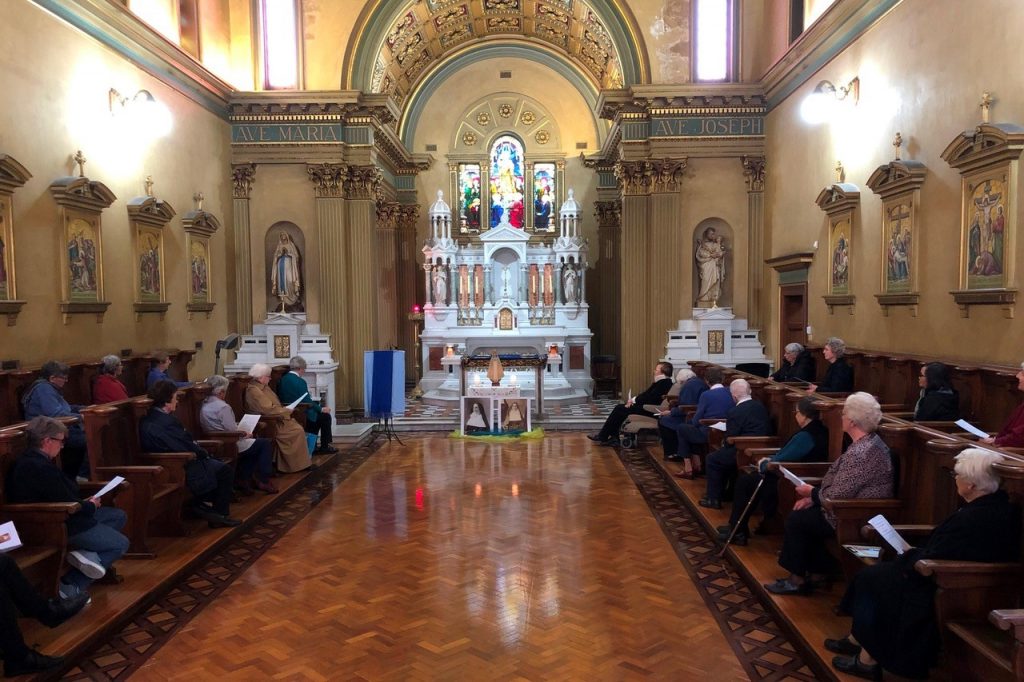 On August 2nd, a crisp, sunny day in Adelaide, we gathered in the Cunningham Memorial Chapel to remember two of our Argentinian Founding Mothers, close to the anniversaries of their deaths.
This was planned as part of our 140th Anniversary Celebrations in 2020. One of the Sisters we remembered was Mother Cecilia Cunningham, whose inheritance from her wealthy family had been used to purchase many properties and to build the heritage listed chapel in which we met. The other was Mother Antonia McKay, Leader of the Coolgardie Foundation in 1898.
Remarkably, we had among us in the Chapel, one of the two Sisters still living who knew Mother Cecilia when they were boarders at St. Aloysius College in the 1940s. Cecilia was a very old lady by then, but Deirdre Jordan remembers her as a very humble and gentle woman. Kath Preece is the other Sister who is a living connection with our Founding Mothers.
The ritual focused firstly on Cecilia. Mary Symonds, assisted by Thu Thi Do, told us something of Cecilia's story – gleaned from the memoirs of Carmel Bourke. Cecilia had been Carmel's Mistress of Formation from Novitiate through to Final Vows.
Cecilia was the second youngest member of the 24 sisters who were our Foundresses in South Australia.  She was only 21 years old when she left Buenos Aires in 1880. She had known a very secure and well-cared for life with her family in Argentina.
Only seven years after arriving in Adelaide, she was elected Mistress of Novices, and had alternating periods in this position and as Superior or Assistant for most of the rest of her life. She was largely responsible for the spiritual formation of all the Adelaide Sisters in the earlier period of our Congregational history.
When her great legacy became available in 1920, she left the Community great freedom to dispose of the money in whatever way they saw fitting. She made only one request: that a truly beautiful Chapel be built, where the Lord could be more fittingly housed. Carmel reported: "She told us once that when they came first from Buenos Aires, with its richly ornamented Cathedral, Churches and Chapels, all in the elaborate Spanish style, what she found most distressing were the poor little church-schools and halls in which Mass had to be celebrated, in so many places in Adelaide.
She loved to sit in the Chapel and pray.
Carmel remembered her as a truly humble person, with a great spirit of poverty.
She was 83 when she became, in 1941, the first Mother General of the re-united Adelaide and Mount Gambier Communities. By then she was the last survivor of the original group in Australia. Her deep wisdom and her personal goodness were appreciated by all. She was seen as a woman of great peace and modesty, yet of indomitable strength.
Cecilia resigned her office as Mother General at the beginning of 1945. She was then in her 88th year. She died on 2nd August of the same year and is buried in the West Terrace Cemetery, Adelaide.
Margie Adams, assisted by Catherine Seward, then told Antonia's  story.
Antonia was 34 when she came to Adelaide.
In the community elections held in 1887, in which all positions of leadership were taken by Sisters born in Argentina, and in which Cecilia was elected Novice Mistress, Antonia was appointed Bursar at Angas Street. Soon after she took over the administration of Goodwood Orphanage when she was in her early forties.
Her years at Goodwood must have been happy ones. Five young women who had passed through her care eventually went and joined her community in Western Australia. The relationship between all these women was deeply affectionate.
In November 1897, Bishop Gibney of Perth visited Adelaide and requested a community of Sisters for the West Australian Goldfields. From all the volunteers, Mother Antonia was chosen as the Superior. Five Sisters left for W.A. on Jan. 3rd 1898. The boat voyage was very rough, and Antonia told the other Sisters that if she died before they got to the Goldfields they were to go back to Adelaide.
Just imagine the scene: five nuns in full black serge habits arriving to the heat and dust of Coolgardie in late January!
The house prepared for them had burnt down the day before they arrived. The difficulties of this foundation were enormous.
The Sisters got to work and opened a school, and after two years Mother Antonia returned to Adelaide to ask for more Sisters as the school numbers were increasing. The Bishop had purchased the Tivoli Theatre, a galvanized iron building for them to use as the school, with a three roomed 'iron' cottage at the back. Antonia had added 4 more rooms at the side.
Life was not easy in Coolgardie.
Antonia wrote in 1902: "We are very isolated here, deprived very often of Mass and Holy Communion, with very hard work and a most uncomfortable place to live in (it does not deserve the name of a convent) and not a bright future. The idea occurs to me often that God does not want us in Coolgardie."
But she persevered. The Community grew, opening houses in Menzies and Norsman, and a place by the sea at Esperance. (Eventually it amalgamated with the Perth Congregation. A large Convent and Boarding School was built in Coolgardie. The Perth Sisters withdrew from there in 1979,  and the convent building is now used as an Aboriginal Education Centre.)
Mother Antonia died on 3rd August, 1924 aged 72 and is buried in the Coolgardie Cemetery with 13 Sisters of the Congregation she had founded in 1898. Adelaide Sisters travelling to Perth by car have made sure to stop off at Coolgardie to visit her grave, and the graves of the pioneer Sisters of the W.A. Goldfields.
The focal point of our ritual of remembrance was the small statue of Our Lady of Lujan, patroness of Argentina. This had been a gift to Antonia from her family and friends and had travelled, over the years, from Argentina to Adelaide, to Coolgardie, to Perth, to Sydney and we welcomed it home to Adelaide with great joy.
Judy Redden explained its significance to us. It connects us to Antonia, to all the Argentinian Mercy Sisters, the living and those who have died. Although travel-weary, it seemed to glow in its place of honour in the Chapel.
We finished the ritual with prayers and blessings, and a beautiful Mercy Chant.
Then we gathered in the Buenos Aires Room at Mile End for High Afternoon Tea (prepared by Barbara Broad RSM) and continued the remembering over a comfortable cup of tea.
Written by Mary-Anne Duigan RSM
Messages to: maryand8@outlook.com