Archived News Item
Remembering a Moment in Time
February 27, 2014
24th January 2014 marked the 130th Anniversary of the arrival of Sisters of Mercy in Grafton NSW from Bermondsey, London. The invitation for Sisters to come to Australia came from Bishop Torreggiani, Bishop of Armidale (in which diocese Grafton was then situated) who had known the Sisters in London.
One of the pioneer Sisters wrote that 'many of our Sisters in Bermondsey offered themselves to this work…among whom seven were chosen, viz, Mother Mary Stanislaus Simson, Superior, Sister M Angela Curtis, Sr M de Sanctis Collins, Sr M Veronica Duggan, Sr M Joseph Donegan, Sr M Aloysius Donegan, Sr M Teresa Roche, Sr M Anne Scannell (a 'white novice') and Miss M Mahoney, to enter on her arrival in Australia.'
Sisters living in the Grafton area gathered this year on Foundation Day at the local church, joining the local parishioners, including a great group of Mercy associates, at Friday Mass, celebrated by Fr Jim Griffin whose homily lifted hearts and gave much encouragement. Helen Owens (Community Leader Central B) and Barbara Bolster (ISMAPNG Leadership) joined in the celebration of Eucharist and lunch. The days that followed were a celebration-with-a-difference, since Helen went on a visiting 'spree' worthy of the journeying Catherine McAuley… She visited Sisters at home in the Clarence Valley, then north to Wardell, Ballina, Alstonville, Lismore, Casino before heading south to Woolgoolga, Coffs Harbour, Nambucca Heads, Kempsey and Port Macquarie. Everywhere cups of tea and 'extravagant hospitality' were the order of the day and our 130th anniversary will be remembered as a particularly special occasion. Hurrah for foundations and hurrah for travelling community leaders!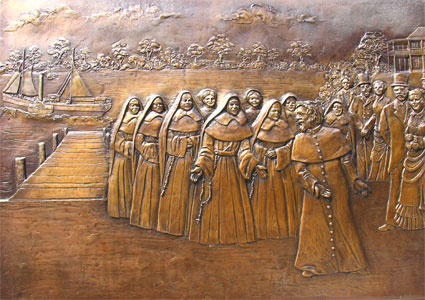 The following intercessory prayers express some of the spirit of the day:
Introduction (Leader)
The story of each one of us begins with God's gift of life… We ask that we become always more aware of the care which our God, giver of life, takes of us and of all creation. May we continue to 'choose life'. Lord hear us.
Every story of the Sisters of Mercy begins with Catherine… We ask that the spirit of the Foundress, Catherine McAuley, will fill all Mercy women and men wherever they are called to live and to serve. Lord hear us.
A new story of the Sisters of Mercy began to be told in this place 130 years ago today… We ask a blessing on all the 234 women who have been professed as Sisters of Mercy of Grafton. Welcome those who have died. Keep alive the ministries of Mercy among us who live. Lord hear us
An individual's response to God's call touches the lives of families… We ask that our generous God will bless the families of all who are called to serve others. As we pray today for them, we remember especially the families who were left behind by the founding Sisters, members of the Simson, Curtis, Collins, Donegan, Duggan, Roche, Scannell and Mahoney families. Lord hear us
The Institute of Sisters of Mercy of Australia and Papua Guinea places the focus of its vision for today on 'hospitality', 'compassion' and 'justice' … We pray for all those who, with us, both give and receive these qualities … our partners in ministries, those who wish us well, those who accept or offer forgiveness for past hurts. Lord hear us.
Messages to: Jenny Hartley rsm
Image: One of the bronze panels in the Heritage Garden in Grafton, depicting the arrival of the Sisters. (Sculptor – Gael O'Leary)