Archived News Item
REKINDLING A MERCY FOCUS
July 3, 2015
Staff and students at St Brigid's College, Lesmurdie, W.A. (approximately 25 minutes from Perth) have rekindled their communal focus on Catherine's mission and story.

In Catherine's case the story 'began with two'; at St Brigid's College, it began with an email and thirty passionate staff (both teaching and non-teaching).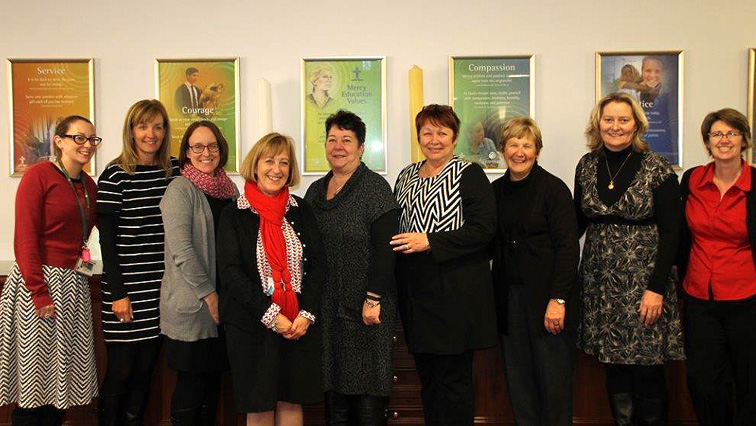 St Brigid's College is rich in eighty six years of history, but staff reached an impasse where they felt that we were losing focus on Catherine's mission and story. There were many worthy causes which were calling for our attention, but we had to ask ourselves, where was the Mercy dimension? It was time to take a moment and reflect. I had just returned from participating in the Mercy Dublin Leadership Pilgrimage in 2014 and had been suitably inspired to continue the discussions that had been held with fellow pilgrims about what Mercy means to us and how it could then be put into action throughout the community.
Schools are busy places and I considered that maybe others wouldn't be called to devote time to this idea to come together 'around a cup of tea' (and some scones). In a leap of faith, a single email was sent out to all staff and I waited in hope for a response …. I was inundated with interest! It came from staff in all positions within the College, each having a different gift to bring to the table. The intention in forming the group was to provoke, share, challenge and be possible agents of change, not just within the study body but staff as well.
The structure of the group has allowed for monthly meetings, which are a combination of sharing mercy stories, ideas for future developments at the College, important action and a guest speaker programme. It is a dynamic group. It was also decided that we would also each form project groups; ranging from an ePrayer booklet written by students from Kindergarten to Year Twelve focussing on the College Mercy Values, a Mercy inspired altar cloth, the hope to record the Sister's stories to share with our students, re-energising our curriculum to encompass Catherine through to celebrating our heritage through photographs. The guest speaker programme has been welcomed and has to date combined areas of interest such as the work of CARITAS to an insight into the Sisters and their journey.
Most importantly we all share a desire to know Catherine and her story, whilst creating our own St Brigid's College story.
Messages to: Janine Walsh
Photo: A small group of staff chatting with Sr Kerry Wilson who had just concluded her presentation 'My Mercy Journey'