Archived News Item
Refugees: real people, real needs
June 18, 2009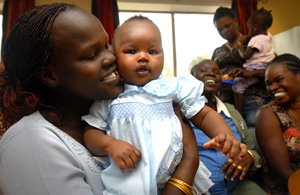 The number of people forcibly uprooted by conflict and persecution worldwide stood at 42 million at the end of 2008, according to the UN's refugee agency. As we acknowledge World Refugee Day this Saturday June 20, readers are invited to reflect on the situation for refugees throughout the world. Refugees are individuals with real needs, just like you and me. What action can you take to address their situation?
World Refugee Day: June 20
In the June 4 edition of Mercy M@tters, the Institute's Specific Issues Committee, Asylum Seekers and Refugees, presented a backgrounder for Refugee Week 2009: June 14-20. As we approach World Refugee Day (June 20), readers are invited to continue reflecting on refugees and consider what action can be taken to address their situation.
"Refugees are a justice issue because to be a refugee is to be in a state of dispossession – to be dispossessed of basic needs, family, land and livelihood. Displaced from their homes because of conflict, repression or civil strife, the suffering of refugees is immense and unjust." (Gilligan, Beth, Searching for Justice, 2000)
Who is a refugee?
A refugee is a person who "owing to a well-founded fear of being persecuted for reasons of race, religion, nationality, membership of a particular social group, or political opinion, is outside the country of his nationality, and is unable to or, owing to such fear, is unwilling to avail himself of the protection of that country…" Article 1, The 1951 Convention Relating to the Status of Refugees
How many refugees did you say?
While the number of refugees and internally displaced persons (IDPs) falling under United Nations High Commissioner for Refugees responsibility was estimated at 25 million, it is believed that a total of 67 million people had been forcibly displaced at the end of 2007.
Further information: United Nations High Commissioner for Refugees and United Nations High Commissioner for Refugees, Regional Office Australia, New Zealand, Papua New Guinea and the South Pacific
The faces of refugees: more than a number
Read about the African Refugee Farming Project in the latest edition of The Bilum, the magazine of Mercy Works Inc. An initiative of the Parramatta Sisters of Mercy with support from Mercy Works Inc., this project is in the early stages of development. Read the article here: "Improving the diet and health of African refugees".
Blind Conscience, Margot O'Neill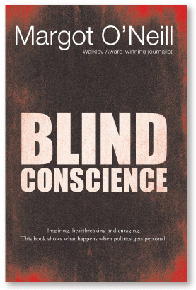 Margot O'Neill, a senior reporter with ABC TV's Lateline programme, will be a speaker at the Mercy Justice Conference, "Embrace the Other…Welcome Difference". Her profoundly moving book, Blind Conscience, reveals the story of the people who struggled to get asylum seekers out of detention and change government policy. Who are the people and the situations revealed by Margot's interviews?
Margot writes: "Dr Louise Newman, one of Australia's leading child psychiatrists and the national spokesperson for the Royal Australian and New Zealand College of Psychiatrists states, 'it was denial that there was any connection between length of time spent in detention and mental disorder'.
"During the exhausting four years of campaigning for improved health care in detention, Louise Newman, a scientist and an atheist, says that there was one surprising group she came to envy for their robust endurance; nuns."
If you were involved in the Mercy letter-writing campaign to have children released from the detention centres, you will want to read about Louise's insights.
Which country provided a warm welcome and a large "welcome" banner as refugees arrived in the country's processing office followed by a speech from the prime minister telling those desperately seeking safety that this was their new home?
Who was the concerned person who stood outside Villawood Detention Centre and yelled, "We know what's been going on inside and we want to support you! We want you to be free! We promise to tell the rest of Australia about this!" What was the impact of this man's action on his own political life?
Margot O'Neill states, "They all share a memory of a time in Australia when there were razor wire cages in deserts brimming full of distraught, numbered children and their parents, just about all of whom were recognised as refugees fleeing blood-soaked regimes. Without exception, those featured in this book say they would do it all again. They hope they won't have to. But they're not sure anymore. How will Australia react the next time refugee boats arrive?"
Readers are encouraged to seek out this book, view the timeline, reflect on the interviews and the final words from the refugee advocates and consider possible steps to welcome refugees.
O'Neill, Margot, Blind Conscience, published by University of NSW Press Ltd, 2008. Visit the website here. Margot also talks about her new book here on YouTube.
From: Institute Specific Issues Committee, Asylum Seekers and Refugees (Sisters Geraldine Mugavin, Rosarii O'Connor and Helen Owens). The Committee warmly invites your response to the article or the issue.
Email: asylum.refugees@mercy.org.au

Contact: Carmel Heagerty RSM, Institute Justice Co-ordinator
Email: Institute.Justice@mercy.org.au