Archived News Item
REFUGEES AND ASYLUM SEEKERS
April 14, 2016
During the week I go for a walk (for those who know Griffith) – up Yambil Street to Ulong Street and onto Banna Avenue and home. On my travels, I see refugee and asylum seeker persons waiting to be picked up for farm work. And it is my guess that the reason there are so many of these people in Griffith is that there is work for them on the farms, like fruit picking. I will have to investigate this further.

A favourite pastime for me is the weekly Art lesson on Tuesday evenings. Last term there were a number of Afghani men attending the Western Riverina Community College classes as well. The classes included English as well as how to be a fork lift driver. One evening we could hardly hear ourselves thinking because of all the laughter coming from the men's group – they were watching a movie entitled "What You Don't Do as a Fork Lift Driver". At the end of the term these men put on a meal for the teacher and themselves and they invited the art class to join them. Lots of laughter and chilli!
Significant cultural groups in Griffith include South Pacific Islander communities (Fijian, Tongan and Samoan), Indian, Turkish, Afghani, Filipino and Pakistani. A number of these people are migrants, refugees and asylum seekers. Sister Theresa and I have some limited contact with these people in our work with St Vincent de Paul Society. We are teaching English to a young Turkish woman who has a very supportive husband and a three month old baby. Here it is a case of going back to basics: counting 1 – 100; knowing the names of the letters; telling the time both in analogue and digital and writing short sentences about the time we get up or go shopping.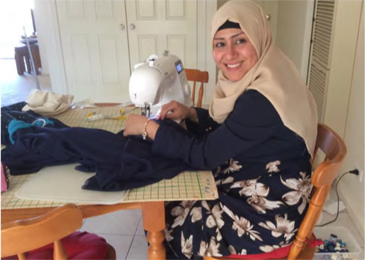 Assisting a young Pakistani woman to pass her residency test and attempt a diploma of horticulture is a challenging part of our involvement and the individual sewing lessons to Iraqi, Indian and Pakistani women are full of surprises. The Iraqi lady is like lightning. She doesn't use a pattern but just cuts out the material from an idea or from another garment. She likes to give me a surprise each week of what she has made up overnight so all I can do really is offer her some tips. The Indian woman cannot speak English but that does not stop her from giving her opinion and advice. Her sixteen year old daughter translates and has also been struck by the sewing bug. The Pakistani woman wants to learn how to make western clothes with patterns.
There is a pre-school Mothers group called 'The Sprinkles' and we are going to present sessions on Food Handling, First Aid and we will offer some sewing sessions as well.
At the Rescue and Fire Station there is a community worker called Sue Delves who previously taught at Marian College. She is now employed by Red Cross. Sue has gathered some women around her including myself and is hoping to run a home safety group for refugee and migrant women along with other sorts of activities including the Harmony Day morning tea in the town library. There is another women's group which is in the process of being formed. It is a group for Refugee and migrant women who haven't children or any family support network and as a consequence are feeling alone and lonely.
All of this activity adds a wonderful richness to the town and broadens one's horizons in a very positive way.
Messages to Tricia Johnson rsm