Archived News Item
Reflecting on the wild and the sacred
February 8, 2009
"The Wild and the Sacred" was the title of a reflective gathering held at Mulgoa (NSW) from December 14-20 last year. The main presenter was Mary Southard CSJ, a painter and sculptor, who is perhaps best known for her creation of the Earth calendar. Mary is also an experienced retreat giver and educator in earth literacy and cosmology. Sister Coral Hedley RSM reflects on the experience.
What were 20 Mercy women doing at this retreat-reflective seminar held at Mulgoa Centre in NSW in December 2008? For each of us it was surely a personal, as well as a communal experience of exploring our place in the Universe. Our generation is the first to look through a telescope beyond our galaxy into the great story of God Universe.
I am almost totally new to this area of study or enlightenment, but since doing the readings and joining in the prayer for the Fifth Consultation, I was taken up with the readings from "Engaging Our Wisdom Traditions" – The Cosmic Context e.g. "Every second, the sun alone is transforming four million tons of itself into light."
I was intrigued with aligning this with the self-giving and self-gifting heart of Jesus with the natural kenotic processes of the universe. My first step was to download the Earth Charter… and read it! Then to the papers of "International Mercy Research Conference" of November 2007. Finally there appeared on my desk, a couple of months prior to the event, a seminar-retreat brochure for "The Wild and The Sacred", sponsored by the Sisters of Mercy, Parramatta and the Oceania Province of the Christian Brothers, so I tried my luck at getting a place… Bingo! Success!
There were 92 participants from all walks of life with great experiences of living. Most of the language was new to me so I had to listen intently… think I caught up by the end of the six days! Mary Southard, a painter, a sculptor, and a Josephite Sister from Illinois USA, was the presenter. She has a website with her beautiful work on it… also download friendly! Have been using them for some time for prayer and cards and would recommend them if you have a need… just Google her name.
Our focus was on a movement from an Old Cosmology to a New Cosmology; beginning with the fireball of 13.7 billion years ago then, the processes of formation of our galaxy, our earth, first life on earth, earliest humans, great religions, Jesus Christ and down through the eras until now… we are now the earth awakening to a new era… to give it a name – the Ecozoic Age! I wondered: what will we humans choose? What gifts will we bring to this age? My reflection also brought me to ask what gifts can we as Mercy women bring to this adventure?
Along with prayer, ritual and creative works e.g. painting, collage, writings, we gathered in groups each day to share personally what all this meant to us. I found that most helpful to help me integrate and expand my thoughts. In this context we discussed what would be the characteristics of the emerging human. In general they were as follows:
co-operation
creativity
high intuition
ability to form community
ecologically aware
universal human consciousness
humans that experience ourselves as "we" rather than "I"
I left full of optimism, longing to know more of my true nature and the nature of my Beloved… What beautiful works of art we could make of our planet as people of Mercy!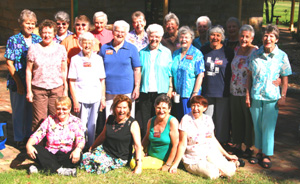 From: Sister Coral Hedley RSM