Archived News Item
Reflecting on Brisbane Harmony Day celebrations
April 7, 2009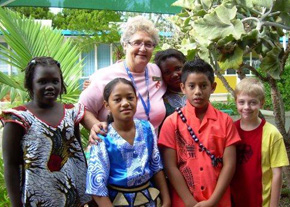 Two schools in Brisbane were among the many communities that celebrated Harmony Day on March 21. Brisbane Sisters of Mercy, Bernadette Ahearn and Veronica Ekerick are Student Pastoral Ministers at Our Lady of Fatima School, Acacia Ridge and St Francis Xavier School, Goodna, respectively. Here they reflect on the celebration in their school communities.
Bernadette writes of her school celebration:
"The school yard, classrooms and assembly area were alive with colour on Friday March 20 when the school community celebrated Harmony Day 2009. Because of the variety of backgrounds of the families here, this day has become one of our favourite annual celebrations when we re-emphasise the theme 'Everyone Belongs'.
"Students, staff and parents were invited to wear traditional costumes or the harmony colour of orange for the day which began with a special assembly. At this assembly prayers, songs, storytelling, costumes and flags brought alive the harmony message, highlighted by the special map of Australia constructed at art classes during the week.
"Every student and staff member glued their individual photograph onto the map, thus creating our picture of harmony. Celebrations continued into the lunch time when each class shared the exciting foods that had been prepared by families from the various cultures and countries. Parents were entertained to an Aussie morning tea from the tuckshop."
Veronica shares about the celebration at her school at Goodna:
"St Francis Xavier School is a multicultural school. The students in the school have backgrounds in approximately 35 nationalities. Harmony Day is always a special day to celebrate our various cultures.
"This year a map of the world highlighting the countries of origin of our students was placed in the library. Students and staff were encouraged to wear something orange (the color for Harmony Day). There was an array of orange joggers, socks, headbands, skirts, t-shirts, blouses, shorts and ribbons.
"Sister Maria Vu, a Sister of Mercy, was interviewed over the school PA system and spoke of her life in Vietnam prior to her family's escape to Thailand and finally Australia. The children and staff were moved by this personal account.
"Students in some classes made Tibetan prayer flags and hung them outside the classrooms. Other students enjoyed a shared multicultural lunch. 'Harmony Day – Everyone Belongs' is in keeping with our school motto 'Kids Who Care.'"
From: Sister Mary Lawson RSM