Archived News Item
Reflecting on a Goroka Christmas
December 21, 2006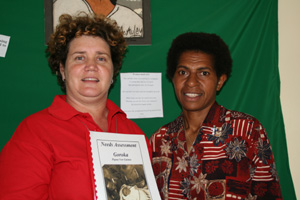 For Sister Gaye Lennon (Gunnedah Congregation), this year will be the first Christmas she's celebrated in a Christian country for over ten years. Gaye arrived in Papua New Guinea in April this year. Prior to this placement, she was stationed in Thailand, working in the Karenni refugee camps on the Thai-Burma border (2004-2006), and before that, she lived in Pakistan (1996-2002). Gaye shares with Mercy M@tters readers how she will celebrate Christmas in PNG.
Friday December 15, 2006
Greetings from Goroka!
This is my first time to celebrate Christmas in a Christian country overseas. Since 1994, I've either celebrated Christmas in an Islamic or Buddhist country. Generally I find the lead up to Christmas hard, I guess, because Christmas has so much to do with family and home, but have had some great celebrations over the year.
This year we have begun the new Mercy Works Project in Goroka and actually started implementing trainings in October. The project has been well received locally and we will be going to celebrate with the women in the prison here on Tuesday afternoon [December 19], along with other Mercies in Goroka. We are presently having afternoon and morning sessions in the prison each week. We are focussing on skills training and women's health at present. The women have prepared dramas and songs (some they have written themselves) as part of the entertainment for the afternoon.
On Thursday next week [December 21] we have invited all those who have been coming to our trainings and support groups to join us. They come primarily from the settlement areas and battle daily with poverty and violence. This includes so-called rascals (young men who steal, knife and rape) and girls who sell "˜skin' (sex) to survive. All seem to be very excited about the idea. They will all come with an item prepared to entertain and will bring what little food they can. We will all share what we have and celebrate together.
On the actual day we have invited religious and priests living locally to come to our home for lunch. It will be a pot luck kind of gathering! There are a few small communities here so it is a chance to come together and celebrate.
Photo: Sisters Gaye Lennon and Maryanne Kolkia, Co-directors of the Jubilee Project in Goroka, PNG.
From: Sister Gaye Lennon RSM
Email: glennon@mercy.org.au