Archived News Item
Reducing risks for mothers and babies in PNG
July 9, 2008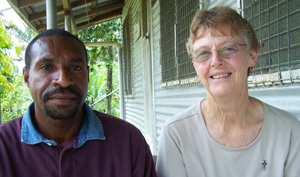 In Papua New Guinea (PNG), maternal and infant mortality rates are disturbingly high, but they are even higher in remote and rural areas. Sister of Mercy, Maureen Sexton, an experienced nurse and midwife from Victoria, provides an insight into the situation in the North Fly District in PNG's Western Province. With support from Mercy Works Inc., Maureen has been working here since 2003.
Photo: Moses Beng with Sister Maureen Sexton. Moses is a Community Health Worker with the Catholic Health Agency and is working with Maureen to implement the safe motherhood training programme in the North Fly District.
It was 7:30pm. All was quiet outside and darkness was rapidly descending on what had been a hot and humid day ending with heavy tropical rains. Suddenly, there was loud knocking at our door. Three rather untidy looking men were anxious to tell us they had just arrived at the waterfront with a mother and baby who both needed to go to hospital urgently. The woman, Martha, had delivered a healthy baby boy in the early hours of the morning. But a serious problem had developed. The placenta had not come out.
The eight-hour trip by river through humid heat and rain had taken its toll. In the last hour or so as darkness fell, navigation became risky.
When we arrived at the waterfront it was not a comfortable sight.
Fortunately this story ended positively; both mother and child survived. It took much longer for Martha to recover, if she did fully recover, as she had at least seven other children, was severely anaemic, and had a history of retained placentas. If Martha had stayed in her village, the outcome would have been less fortunate.
Tragically, Martha's situation is not an isolated case. UNICEF estimates that 1 in 54 women in PNG die from complications related to pregnancy or childbirth and a significant number become handicapped as a result of unsupervised deliveries.
Yet for many women it can be different. Antenatal screening and immunisations can minimize complications. That is why the Social Programme for Refugees and the Catholic Health Agency are working together to implement a "safe motherhood" training programme for Village Health Workers in remote communities along the Fly River.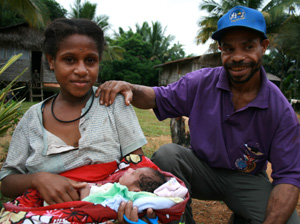 In October last year we trained 18 women from eight villages. They learnt how to do a safely assisted village delivery, but more importantly, they learnt how to promote healthy pregnancies, to identify high-risk mothers and encourage them to attend clinics for antenatal screening and immunisations, and to work with village leaders and husbands to refer women who are at risk of complicated deliveries.
Recently we made a monitoring visit to these newly trained volunteers. The women were excited and happy to be given the opportunity to help and to do something meaningful. Yulita, one of the volunteers, said she has been helping women for a long time, but now feels supported. "I am so happy to know that the Sisters of Mercy are helping us in this way."
Photo: A Village Health Worker meets with a mother and her new baby in the North Fly District.
About Mercy Works Inc.
Mercy Works Inc. supports the local and overseas relief and development activities that are part of the vision and mission of the Institute of Sisters of Mercy of Australia.
The programmes engage in partnerships with communities to promote justice, self reliance and to support displaced people and communities who are denied access to basic resources such as education, health care and social welfare.
Would you like to partner with Mercy Works Inc. to help reduce health risks for mothers and babies in Papua New Guinea's North Fly District? Find out more.