Archived News Item
REACHING A FIRST MILESTONE
April 18, 2016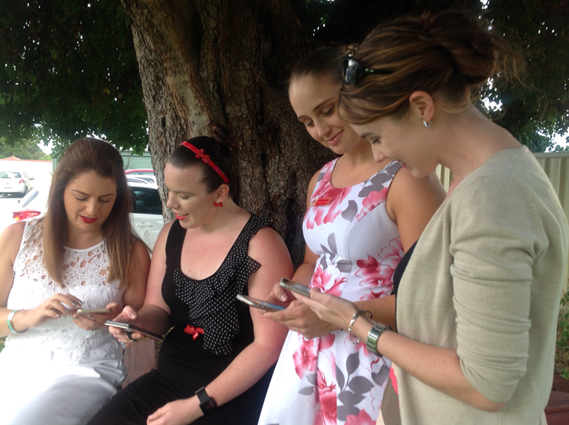 The
'Mercy-ing' App
has reached the first milestone in the support of action and contemplation in daily life.
Just over three months after it was launched, an app that supports action and contemplation of the movement of Mercy in daily life has surpassed expectations by clocking up 2000 downloads. It is now being used across the globe for both personal and group reflection including in Australia, New Zealand, the USA, and Ireland.

The path of Mercy invites us to hold in graceful balance our lives of prayer and our lives of service. From the time of Catherine McAuley onwards, people of Mercy have sought to hold this delicate dance of contemplation and action in a myriad of ways. Today in the digital age the Mercy-ing App is providing a framework for people seeking to continue to hold this balance, in the context of their everyday lives as they too walk this path.
Stephen Tiley, Head of Internal Audit and Risk Assurance with Mercy Health, Melbourne Australia notes "I have always known that reflection was good but it never came naturally to me.
The Mercy-ing app has been of great assistance in this regard.
By using the archive I am able to focus on a specific inspiration or reflection that best connects with my day. Secondly, I can do it when I feel best placed to do so, in micro moments".
The Mercy-ing App, developed by Fraynework Multimedia is supporting a daily reflective practice with Mercy at its core – attending to the movement of Mercy in the everyday and exploring ways that we are invited to respond in the circumstances of our lives – at work, at home, with our families and in the community. The working group of lay women, Carmel Crawford (Co-ordinator Mercy Ethos Office, ISMAPNG), Anne Ferguson (Co-ordinator, Office of
Mission Animation, Sisters of Mercy Parramatta), Janice McDrury (Mission Co-ordinator, Mercy Hospital, Dunedin) and Natalie Acton (Mercy Ethos Educator, ISMAPNG) who developed the app content and concept note that "the idea of the app came about through our experience of working with people who were seeking to integrate a reflective practice centred on Mercy in their everyday, busy work and family lives".
Released in December 2015, the app has a different theme each month based on the Works of Mercy. The app also has a programmable timer with chime to indicate the conclusion of reflection time to ensure that users can focus on their reflection without having to watch the clock. Caitlin Pfafflin, Mercy 5 Co-ordinator, with the Sisters of Mercy North Sydney and Parramatta, says of her experience "I find the app extremely relaxing and a good way to end a busy day.
The quotes are thought-provoking and inspiring and have helped me get a better understanding of the meaning of Mercy in my everyday life. The Mercy-ing app has made me take the time to recognise for what am I grateful in my life – I have especially enjoyed this part of the reflection.
Many 'doorways' of Mercy have been presented to me through the use of this app".
So too in New Zealand.
Amy Armstrong, (Pastoral Leader Formation Outreach and Growth from the Diocese of Dunedin, NZ) notes of the app "I like its simplicity and usability.
It makes it possible in the midst of a busy day, to take a few moments to focus on God's mercy, which is perhaps when we need it the most".
The app can be downloaded free of charge from the Google Play or ITunes Store.
Get it on Google Play HERE
Download from the App Store
HERE
Mercy Ethos Educator – Institute of Sisters of Mercy of Australia & Papua New Guinea