Archived News Item
RAISING AWARENESS – HUMAN TRAFFICKING
December 7, 2015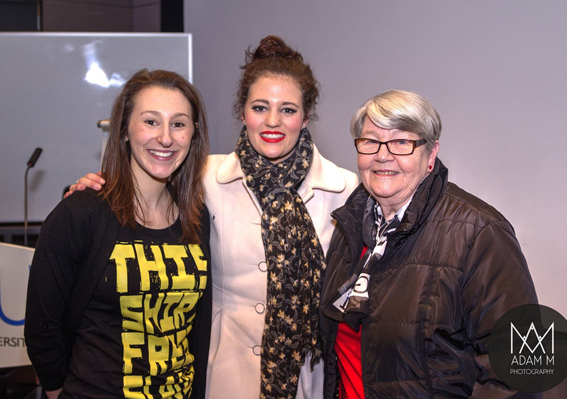 Recently, Young Mercy Links (YML) hosted a justice evening at Australian Catholic University (ACU) in Melbourne on human trafficking. This forum was in part inspired by the Sisters of Mercy global action plan to eradicate human trafficking.

YML members Mary, Isabella, Kim, Rachael and Elisa worked tirelessly together on researching the issue, and locating and recruiting an impressive panel of speakers, as well as locating resources and links.
Isabella Farchione welcomed the audience and guests and acknowledged the traditional owners of the land. Mary Nguyen then gave an outline of the issue of human trafficking, using the short film "Red Leaves Falling" as a powerful introduction to the topic. Following this, key speaker for the evening, Sr. Carole McDonald RSM, Victorian coordinator of Australian Catholic Religious Against Trafficking (ACRATH) was introduced.
Sr. Carole gave a thorough and engaging presentation about the role that ACRATH plays in fighting human trafficking, as well as information about the how much of an issue this is, both here in Australia and in many other countries.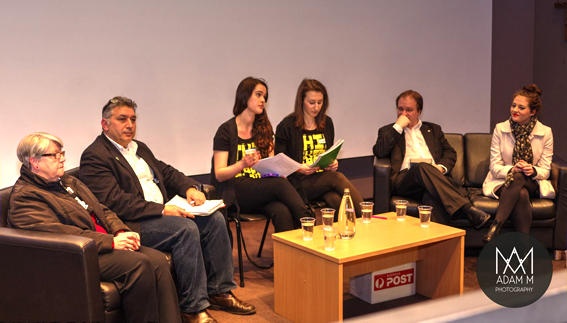 Elisa Bolzonello and Rachael Ward then led a panel discussion with Dr. Andrew Zirnsak, the director of the Social Justice Unit for the Uniting Church, Nick Savaidis, founder of Etiko http://www.etiko.com.au/ , and Jinta Sport & Maddie Kelly from Stop the Traffick joining Sr. Carole. The panel discussion was conducted in a very professional, polished way with interesting interaction between panellists, questions from the live audience and via twitter.
As one audience member later told me "I was profoundly moved by the presentation and I now think carefully before making any purchases because of it". Those involved are to be commended for the work they put in to the presentation, and for their passion to educate others on such an important topic. A big thank you to everyone who supported the evening, to Etiko for the generous discount provided on the t-shirts and the sports equipment for the raffle and to ACU for again allowing us to use the space for the presentation.
Messages to: Bernadette Inman – Coordinator Young Mercy Links
Photos:
1. Elisa Bolzonello (YML), Maddie Kelly (Stop the Traffick), Carole McDonald rsm.
2. from left Nick Savaidis (Etiko) Carole, Rachael Ward (YML), Elisa Bolzonello (YML) Dr. Andrew Zirnsak (Uniting Church) Maddie Kelly.