Archived News Item
Queen's Birthday honours
June 12, 2008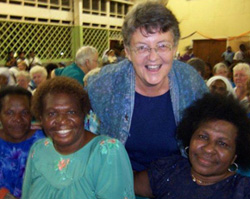 Two Sisters of Mercy of the Australian Institute were recognised for their commitment and service to the community in the 2008 Queen's Birthday Honours List. Congratulations to Sisters Denise Coghlan AO and Josephine Crawford OAM, both of the Brisbane Congregation.
Sister Denise COGHLAN AM received her award for service to international humanitarian aid as Director of the Jesuit Refugee Services, Cambodia.
Denise has always had a keen interest in justice and development work in developing countries. She has a great respect and love for people of other cultures, especially the underprivileged. She has displayed a remarkable creativity and resourcefulness as an educator engendering life and enthusiasm into the projects undertaken. She has a commitment to assisting social change and a generosity in handing on the fruits of her experience and education.
Sister Josephine CRAWFORD OAM received her award for service to the community through the establishment and development of the Mater Health Services Archives, and to health care as an administrator and a nurse.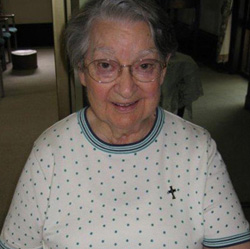 Josephine began her association with Mater Health Services in 1946 as a nurse, first as a surgical specialist and later as a supervisor in the Mater Public Hospital, supervisor of the Premature Nursery, deputy matron, and from 1980 to 1987, as Administrator of the Mater Private Hospital. When she retired from nursing, Josephine took on the role of archivist at the Mater. The archives became a new life interest for her and she has been tireless in giving of her all to its development. She takes great pride in the collection and is always ready to share her knowledge and information with anyone who shows an interest in it.
Congratulations are also extended to co-workers of the Brisbane Congregation who received Queen's Birthday Honours.
Mr Edward Howard AM received his award for service to the community through executive, advisory and leadership roles with a range of health, tenancy, church and social welfare organisations. Ted has had an ongoing association with the Brisbane Congregation of the Sisters of Mercy since 1972 serving on committees with St Vincents's Home (later to become Mercy Family Services) and the Mercy Aged Care Board. He has given freely of his time and his expertise with no thought of remuneration except the satisfaction that he has been able to assist others.
Professor Elizabeth Davies AM received her award for services to nursing, particularly in the areas of nurse and midwifery education and to the community through a range of health-related organisations and advisory bodies. Liz served as a director on the board of Mater Health Care Services for a number of years.