Archived News Item
PWAKAYINI – A Special Place
July 27, 2014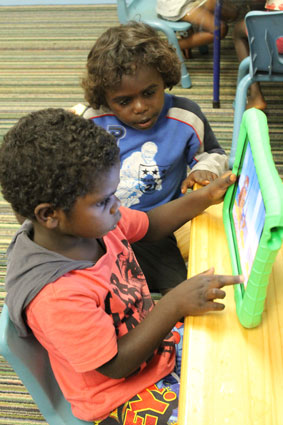 Bathurst Island is 80km. North of Darwin in the Northern Territory. It is the home of the Tiwi people. Murrupurtiyanuwu Catholic Primary School (MCPS) is the only primary school on the island and the preschool – Pwakayini (Tiwi for "Playing Place") is part of the school. The main town on the island, Wurrumiyanga, where the school is located, has a population of 1,700 people and has recently been identified as a Growth Town of the Northern Territory. The preschool opened in 1993 and currently there are 32 children enrolled. All of them are Tiwi. The preschool places a heavy emphasis on community engagement with many mothers bringing younger siblings as well and staying at the preschool for the whole of the daily session.
Mercy Works has been supporting the school's Pwakayini Program (the name comes from a Tiwi word meaning a playing place), which has three elements. A nutrition program takes place once a week to give parents and care givers a chance to develop some skills around preparing and sharing nutritious meals. Secondly, the program promotes reading as a family activity and the third component is learning social skills through structured play situations.
Children are taught vital social skills such as taking turns, sharing, being patient, cooperating and solving problems without reverting to violence. This year Mercy Works is also helping the preschool with the refurbishment of some of the rooms and the purchase of resources and the training of assistants.
There are many issues impacting on the lives of the Tiwi children. Drug and alcohol abuse, gambling and many families experience domestic violence. Unemployment is also very high. The school and preschool is one setting that provides a safe, stable, consistent environment to the children, and in the case of the preschoolers, to their parents and caregivers who accompany them. Programs such as Pwakayini Program can help equip parents support their children's education and enable the children to form more positive attitudes towards school.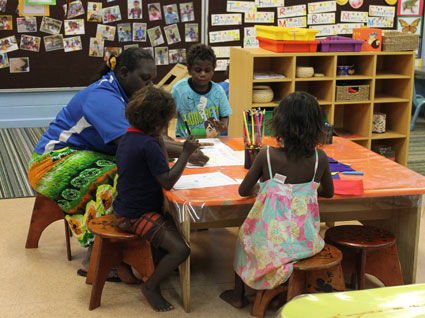 For more information regarding Mercy Works go to http://mercyworks.org.au/
Messages to: Ailsa Mackinnon rsm