Archived News Item
Putting hands together for Early Childhood Learning
November 27, 2011
TaLiHa stands for Tau Liman Hamutuk which loosely translates as 'put your hands together'. Mercy Works has begun a two year programme of support for TaLiHa early childhood learning centres in Timor-Leste.
TaLiHa is an entirely local initiative with a network of centres in Dili and regions to the south and west of the capital. These main locations also have satellite centres around them, spreading early education opportunities even further. There are currently 9 centres with 55 teachers across 32 classrooms. Early
childhood education plays a vital role in the future health and wellbeing of the people of Timor-Leste. the centres not only help children develop important life skills but provide nutrition in the all important early years of development. As the country endeavours to lift itself from being one the world's poorest nations, any support can make a big difference to the lives of people and the growth of a country.
How to use a tap
The centres teach fine and gross motor skills. The children learn and express themselves through both structured and unstructured play. Stories and literature are also an integral part of the learning.
Hygiene such as washing hands and cleaning teeth is taught along with water use. For many of the young children attending the centres, taps are a novel experience. Used to running water in rivers and streams, learning to turn taps on, and importantly off, is a priority for them. Sr Gaye Lennon recently visited some of the TaLiHa centres and reported that they offered 'some of the best early childhood learning situations I've seen anywhere.'
Nutritional support
The centres also provide much needed nutritional support for the children. Timor-Leste has one of the world's highest rates of malnutrition for children under 5 and the districts of Liquica and Ermera where two of the centres are located rate that highest in Timor-Leste. A vitamin supplement, sprinkled onto rice, has been developed locally and is produced by participants at the women's empowerment Programme in Baucau. last year all students at TaLiHa schools accessed the supplement through a one-off grant from Portugal. It is hoped that through the support of Mercy Works and other aid groups, this programme can continue. Each school of 50 students requires 16 bags of the supplement a month with each bag costing $2.50.
Extending into the community
the TaLiHa centres encourage parental involvement. Mothers have a roster to come in each day and cook the food for the children while fathers organise the firewood for the school. At one centre in Fohorem, one of the local nurses who had recently attended a course on nutrition, held a session to pass on his learnings to the parents.
Mercy Works Support
Mercy Works is focusing our support on helping to establish teacher training. The training currently takes place in Dili, but the teachers trained here spread out across the network of centres. Some
teachers are also being trained to be centre Directors with the aim of enabling them to train others as the centres and their satellites spread. It is hoped that soon other centres beyond Dili will be in a position to start training – making the programme more accessible to communities in more isolated areas. Sr Gaye Lennon said, 'at the end of two years we hope that TaLiHa will have a training director,
training will be available for new teachers and that the organisation will be able to manage and lead all the centres themselves.'
Sr Helen Nolen who was previously based in Forohem and Datorua will be assisting with the monitoring of the TaLiHa centres. The need for early learning centres is great throughout Timor-Leste and Mercy Works has already been asked to assist in establishing an additional two centres in remote areas. Timor-Leste's Strategic Development.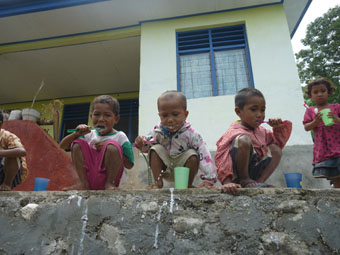 Simple hygiene and health learnings are an important part of the work in the TaLiHa centres.