Archived News Item
Providing PNG communities with access to health care
June 15, 2011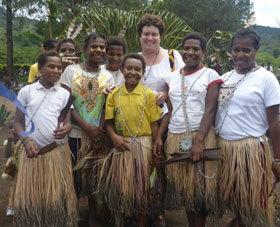 A number of communities in the Eastern Highlands and East Sepik Provinces of Papua New Guinea now have improved access to basic health care facilities because of support from Mercy Works.
In partnership with the Diocese of Goroka, Mercy Works has helped to build a new health clinic for over 3,000 people living in the remote communities of Pundibasa-Abunamo in the Eastern Highlands.
According to Gaye Lennon RSM, Mercy Works' Co-ordinator of Offshore and Indigenous Projects, the new Mercy Clinic, as it has been named, is already making a difference to the lives of people in the area.
"Given that it is at least 15 kilometres or a good three hours' walk to the nearest clinic, access offers relief, attention and treatment to the people, especially the women and children.
"Having the clinic in Pundibasa can be the difference between life and death for more vulnerable community members, as transport is not readily available."
As a reminder of this stark reality, Gaye says that during the ceremony to bless the clinic, a story was told of a seriously ill man who died while waiting for transport to the nearest clinic. She says the new Mercy Clinic is situated close to the place where he died.
In addition to the basic health services available at the clinic, staff from St Joseph's Centre for Hope, a HIV-AIDS service in Goroka, will also visit on a regular basis to provide voluntary HIV-AIDS testing, counselling and care.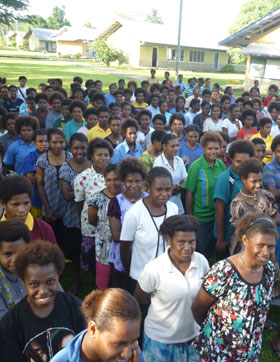 MEANWHILE, in the East Sepik Province, Mercy Works has helped to build a new health clinic for students and staff at the Mercy Secondary School for girls in Yarapos.
The school also operates as a boarding facility, and at any given time, about 30 students need regular medical treatment for conditions prevalent in tropical areas, such as malaria, skin ulcers and asthma.
Before the new health clinic was built, Gaye says that students were forced to make frequent trips by foot to the local aid post or by vehicle to the town hospital. This often meant considerable missed school time, and if the journey was at night, there was the potential for attacks from local raskol gangs.
Gaye reports that the girls now have access to medical treatment and are able to recover at school, thus minimising absences from class and reducing unnecessary and at times risky travel to the nearest clinic.
In addition to the 600-plus students at the school, about 100 staff members and their families who live on site will also benefit from the new health clinic.