Archived News Item
Protecting human rights in PNG's Highlands
December 2, 2009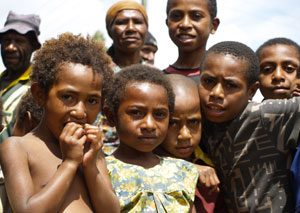 BY Stephanie Thomas
For many Papua New Guineans, their human rights are violated on a daily basis. Access to basic education and healthcare is poor and employment opportunities are few. Violence and sexual abuse, especially against women and children, is endemic, and prosecutions are rare.
But since 2006, the Mercy Works PNG Project has been striving to protect the rights of people in the Eastern and Western Highlands Provinces through a range of education and advocacy initiatives. Human rights awareness workshops are offered regularly through the Mercy Works' drop-in centres at Goroka and Mt Hagen.
In collaboration with other groups in the Highlands, Mercy Works also organises public events to promote human rights issues in the broader community. Generally these events are connected with an internationally recognised day, such as World AIDS Day.
For PNG Sister of Mercy, Maryanne Kolkia, the opportunity to discuss human rights issues in a weekly radio programme is a powerful way to educate the masses. On behalf of Mercy Works, Maryanne co-ordinates the programme and interviews representatives from various community sectors, such as law and justice, the United Nations, health and education.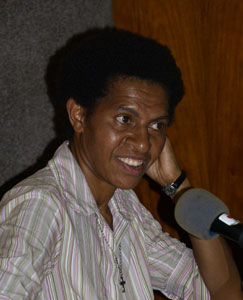 The Mercy Works team also provides advocacy and support services for individuals. Project Director, Sister Mariska Kua, says many people know their problem may not be solved quickly, if at all, but they find it reassuring to have someone who will listen to them and respond compassionately.
Recently, a five year-old girl raped by her cousin was brought to the Goroka drop-in centre by her uncle. Traumatised physically and emotionally, the child was taken to Goroka hospital after which she was referred to Goroka's sexual offence unit and to a community group that specialises in family and sexual violence.
Another case involved a 28 year-old man falsely accused of stealing. While detained in a police cell he tried to escape but police shot him in the leg. They returned him to his cell without medical attention and his leg had to be amputated. Mercy Works connected this man with a local lawyer.
Fortunately not all cases are as extreme as these two. In Mt Hagen, a mother and daughter visited one of the local restaurants. When the daughter started to choke on her food, the mother noticed there was a clump of hair on the plate. She asked for another meal but was told to remove the hair and eat what was left. She insisted but was forced to leave. Outside the restaurant the mother was advised: "Go to Mercy Works!"
After sharing the experience with Louise Parinjo at the Mercy Works Mt Hagen drop-in centre and learning of her rights, the mother felt able to take her case to the police. The owner was charged with abusive language and food contamination and ordered to pay compensation.
Mariska Kua says the philosophy of Mercy Works PNG is to promote the dignity of people and their human rights "no matter who they are and where they are from". She believes the project is performing a vital education and advocacy role in PNG's Highlands.