Archived News Item
Promoting a way forward for Mercy mission
August 26, 2009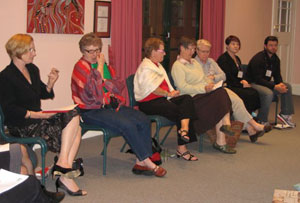 In February this year a group of Mercy leaders and their education associates met in Adelaide to discuss possible futures for Mercy schools. At this meeting, it was decided that formation of our lay partners must be included in any future direction. Jennie Ryan RSM (Congregation Leader, North Sydney) reports.
This resulted in Ailsa Mackinnon RSM (Congregation Leader, Parramatta) being given the task of initiating a gathering for personnel engaged in providing mission activities, values and ethics education to board members and staff in all our Mercy Ministries not just schools.
Last weekend members and representatives of six congregations and Mercy Works Inc. participated in a conference to focus on future formation within Mercy ministries. Skillfully facilitated by Margaret Endicott RSM, the group worked tirelessly over two days sharing, visioning and establishing a process for plans to go forward into a future that would see Mercy ministries embrace formation together.
The initial way forward has been planned and the next meeting will be held early in 2010.
From: Jennie Ryan RSM (Congregation Leader, North Sydney)