Archived News Item
PROFESSION OF VOWS IN PAPUA NEW GUINEA
September 21, 2016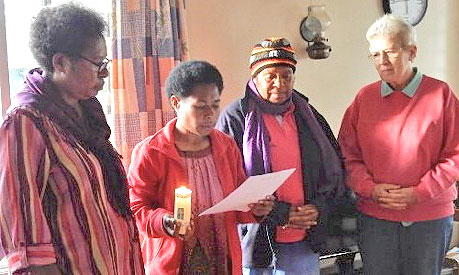 It was a very happy occasion when sisters gathered in Mt. Hagen, PNG on Saturday 10th September. On that day Sr. Doreen Mainick pronounced her vows in the presence of those sisters living in Mt Hagen and the Papua New Guinea formation team, together with Joan Doyle rsm (Institute Formation Director) who received her vows.
Doreen pronounced her vows in the context of a simple ritual which had been prepared; the theme being "Take Nothing for the Journey". As a gospel reading Doreen chose the account of the sending out of the twelve from the gospel of Mark. (Mk 6:7-13). In her reflection on the gospel Doreen said: "in taking this journey, I must believe in myself and trust in Gods' presence with me every day and so not be frightened of hardships or scared of difficult situations but trust always in God's providence and power."

At the conclusion of the ritual all the sisters enjoyed sharing a simple meal together to celebrate the occasion.
Messages to: Joan Doyle rsm
Photo:
L-R: Sisters Mariska Kua, Doreen Mainick, Claudia Apalenda, Joan Doyle