Profession ceremonies for PNG Sisters of Mercy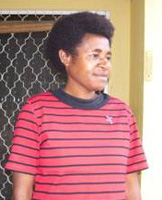 The Sisters of Mercy of Papua New Guinea invite Sisters of Mercy around the world to pray for the Papua New Guinea sisters as they celebrate the first profession of Kunnie Kalango (pictured right), and the renewal of vows of Emma Awehi, Catherine Hopil and Robina Einde.
They say: "Our prayer is that they will be true to their commitment and gladden the heart of Catherine McAuley."
On Friday December 12, Foundation Day, Kunnie Kalango will make her first Profession at St Mary's Parish Church, Goroka in the Papua New Guinea Highlands.
On December 31, Emma Awehi, Catherine Hopil and Robina Einde will renew their vows in Wewak on the north coast of Papua New Guinea.
Congratulations and best wishes to these sisters!

Messages to: Sister Joan MacGinley RSM at betterworld@dg.com.pg