Archived News Item
Prisoners' art reveals signs of life
June 17, 2009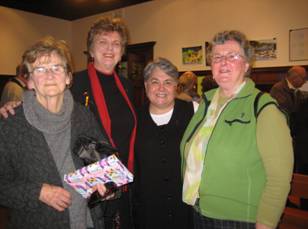 Melbourne Sisters of Mercy, Geraldine Mugavin and Giovanna Danza both work as prison chaplains in Victoria. They report on a recent exhibition which featured the artworks of 51 men and women in Victoria's prison system.
Through the International Commission for Catholic Prison Pastoral Care, the women and men in our prisons here in Victoria were invited to take part in an art competition titled "Signs of Life".
In the prisons we visit, this opportunity was taken up by several of the inmates with the encouragement of Recreation and Programme Officers. Given such opportunities, many of us surprise not only others, we even surprise ourselves with what we are able to produce with minimal resources. This is what has happened to some of the inmates with whom we come in contact. One woman used her lipstick and mascara to add 'additional effects' to her painting!
Some 50-plus men and women took part in this competition and Catholic Prison Ministry, under the auspices of Centacare, took the opportunity to exhibit the works at Mary of the Cross Centre, Fitzroy.
Father Joe Caddy, Director of Centacare Melbourne welcomed the guests, and Sister Rosemary Crumlin RSM (Parramatta) was invited to open the exhibition.
Many who are associated with work in the prisons, along with other Centacare stakeholders and families and friends of the prisoners, enjoyed the evening of viewing and hospitality extended on behalf of Catholic Prison Ministry.
Unfortunately the artists were unable to attend!
From: Geraldine Mugavin RSM and Giovanna Danza RSM (Prison Chaplains)
Editor's Note: Read an article from the Kairos Catholic Journal (June 14, 2009) about the exhibition "Signs of life from the inside".