Archived News Item
PRAYER DOESN'T CHANGE GOD, IT CHANGES US.
October 19, 2015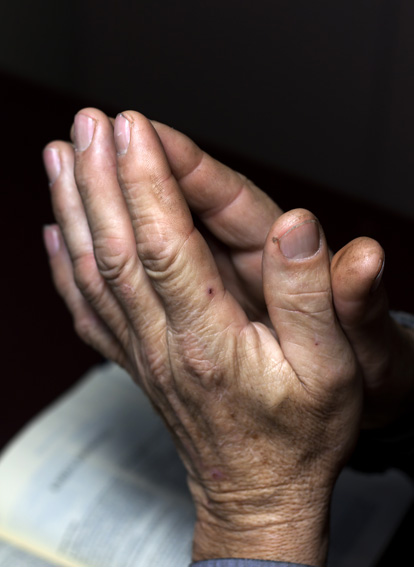 Mercy Associates gatherings always include a period of prayer and this ranges from having a set collection of prayers through to having a group member whose job it is to prepare a prayer and reflection to use at each meeting. Whatever the format, prayer is core to being part of a Mercy Associates group.
As well, quite a number of groups with members who are housebound have developed prayer ministry as one of their ways of serving the needs of others. This involves a member of each of these Mercy Associates groups drawing up a list of prayer intentions each month, and these include those in the local community who are ill, grieving, or experiencing suffering of some kind; and other needs within Australia and beyond, such as those displaced by the war in Syria; refugees seeking to resettle; those affected by natural disasters around the world.
Someone in the group has the job of contacting the housebound Mercy Associates and letting them know of the prayer needs of the month. Some important things then happen: First, the needs of the world have an extra person praying for them as these housebound Mercy Associates adopt a personal ministry of prayer. These prayers are, as it were, added to the prayers of the local Mercy Associates group, expanding the faith community of people who care about these world needs and devote prayer time to them.
Second, these housebound women and men of mercy remain connected to their local Mercy Associates group, even though they no longer can attend meetings. Becoming elderly, frail and housebound can often be a time of increasing isolation, and also a time of feeling useless as one's physical capabilities steadily wane. But prayer doesn't require physical abilities, it requires a heart that wants to be open to God and to express its compassion and concern for those in need around the world. Age needn't get in the way, and continuing to belong to a Mercy Associates group through this ministry helps to alleviate the isolation that might otherwise be experienced.
Mercy Associates groups are faith communities bonded by their commitment to prayer and to ministry action suited to their abilities. The previous Abbot of New Norcia, Dom Placid Spearitt OSB, once commented that prayer doesn't change God, it changes us. The Mercy Associates groups involved in prayer ministry are serving the world through their prayer, yet they also are remaining connected to their local group and enriching their spiritual life as they keep a central focus on prayer.
Messages to: Carmel Ross, Mercy Associates Executive Officer