Archived News Item
Prayer and Technology
December 12, 2013
As more and more people use tablets and smart phones as channels of communication, mobile has changed the way we interact… firstly with each other and indeed now with God. As Pope Francis has said "The challenge is to rediscover, through the means of social communication as well as by personal contact, the beauty that is at the heart of our existence and our journey, the beauty of faith and of the encounter with Christ."
Working in the world of digital communications, Fraynework Multimedia, a ministry of the Sisters of Mercy Australia and Papua New Guinea, was recently commissioned to develop some exciting new prayer Apps just released into the market.
The Diocese of Broken Bay approached Fraynework to develop Lectio Divina – the App, the first of its kind worldwide.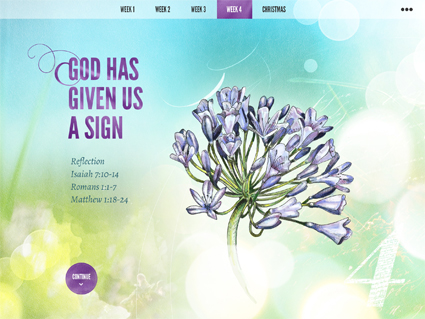 Lectio divina is the meditative reading of a text of God's Word, the Scriptures, alone or with others, which leads to prayer, transformation of life, and, through that transformed life.
The Diocese has been producing lectio divina reflections for Advent and Lent since 2009, distributing over 70,000 each season, and envisioned the App as a new and accessible way to prayerfully reflect on the Scriptures in preparation for Christmas.

Tablet users can follow a simple process to both read and hear the Scriptures for each Sunday during Advent along with selected Christmas and Epiphany readings. Each section has additional reflection material to assist in the prayerful exploration of the Word. A Lite version that offers the scriptures and accompanying reflection (no audio) is available for iPod Touch, iPhones and Android Phones.

Lectio Divina – the App is available free worldwide.

To access App downloads:

iPhone – https://itunes.apple.com/us/app/lectio-divina-phone/id760070889?ls=1&mt=8
iPad – https://itunes.apple.com/us/app/lectio-divina-tablet/id760044932?ls=1&mt=8

Another new prayer app was created by The Redemptorists of Australia and New Zealand who approached Fraynework to develop Bread 4 Today – A Prayer App for Life. It is a meditation aid which people can use to come closer to God and effect positive change in their lives and their community.
Bread 4 Today provides access to daily prayers for reflection and meditation. It includes a prayer archive, which allows users to search past entries by category so that they can reflect on prayers that match their frame of mind. Categories include: Courage, A Just World, Relationships, Hope, Hard Times, Faith, Forgiveness and Special Intentions. All prayers can be shared via social media with a tap of the screen, thanks to its integrated social media capabilities.
For users who are interested in current Catholic or social justice issues, the App also offers links to Cathnews and Social Policy Connections.
It is available free worldwide on the Apple App Store and the Android Market.?
Visit: http://cssr.org.au/bread4today/ to download the App.
Sister Nerida Tinkler RSM, Fraynework's Transition Manager, has expressed her appreciation in being involved in this contemporary Mercy ministry extending on traditional works of Mercy. "It is inspiring to see the Fraynework productions which as tools offer every opportunity for people to pray, come closer to God and be further motivated for outreach."
Messages to: Deb.Carter@fraynework.com.au