Archived News Item
Poverty most acute in remote areas
July 4, 2008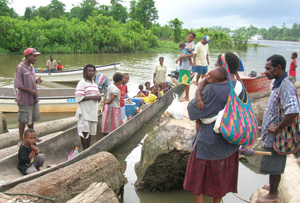 Despite a global trend of poverty shifting toward urban centres, poverty is still most acute and widespread in rural areas, according to a recent report from the International Food Policy Research Institute. The poorest people typically belong to socially excluded groups, have few assets, and live in remote rural areas with little access to roads, markets, education, and health services.
This situation is all too real for people living in the North Fly District in the Western Province of Papua New Guinea (PNG). Located near the West Papua border, the North Fly District is an extremely remote area with little infrastructure. Apart from the mining towns of Kiunga and Tabubil, which are linked by road, the terrain is dominated by swampy marshes and dense rainforest.
"This means access in and out is gruelling and access to services is tough," says Sister of Mercy, Maureen Sexton, who has been working in the North Fly District since 2003.
She says that most people travel on foot or by boat using dugout canoes and small motor boats. While barges and cargo vessels trip up and down the Fly River, they don't carry passengers. Only small numbers of people can afford to fly in or out of the area to access other major centres.
In 2004, Maureen was joined by Sister Catherine Corbett. In partnership with the Diocese of Daru-Kiunga, and with assistance from Mercy Works, they are providing basic education, health care, pastoral and advocacy support for West Papuan refugees who have been living in settlements along the Fly River and in Kiunga for over 28 years.
Maureen believes a lot of development has happened since Kiunga opened as a Catholic mission in 1959. The Diocese of Daru-Kiunga is a key organisation in the Western Province and has well established relationships with government, provincial networks and other organisations.
"It has made a significant contribution to the life and health of the people," she says. "[But] what really kick-started Kiunga was the opening of the [Ok Tedi copper and gold] mine because it became the port for the mine."
While acknowledging the benefits of the mine for the province and the whole country – such as employment and infrastructure development – Maureen believes "many detrimental issues have also arisen".
Environmental destruction of the river and land has had a huge impact on a people who rely on farming for their livelihood. Along with poor quality soil, fish supplies have been destroyed or contaminated. Apart from what people grow, all supplies come up the river or are flown in. There's not a big range of fruit and vegetables and they are expensive.
For Maureen, poverty exists in the North Fly District because of people's inability to access health and education services. This is particularly so for West Papuan refugees who came across the border into the Western Province after 1984.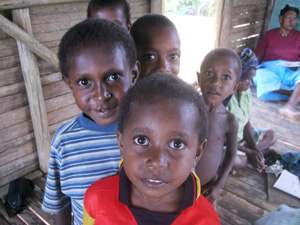 Unlike other West Papuans who have been granted official refugee status and have integrated into PNG life, about 6,000 of those who came after 1984 (known as "border crossers") do not receive support from the PNG Government or the UN's refugee agency. However, the Church's Social Programme for Refugees, co-ordinated by Maureen, is responding to their needs.
The Government has a target that everyone should be within two hours of a health or education facility, but in the remote North Fly District this is often not the case. Nationwide, the health system is inadequate. In most rural areas, there is a shortage of medical doctors, nurses and community health workers. Consequently, people's health outcomes are very poor.
According to the World Health Organisation, malaria and tuberculosis remain the major causes of sickness and death in all age groups, while maternal and infant death rates are very high. To complicate the situation, PNG now has a "generalised epidemic of HIV-AIDS".
A significant part of Maureen's work has been supporting community-based health care initiatives which involve training women and men to be the primary health care workers in their villages. Mostly working in a voluntary capacity, these people are helping their communities to improve health and raise general standards of living.
About Mercy Works Inc.
Mercy Works Inc. supports the local and overseas relief and development activities that are part of the vision and mission of the Institute of Sisters of Mercy of Australia.
The programmes engage in partnerships with communities to promote justice, self reliance and to support displaced people and communities who are denied access to basic resources such as education, health care and social welfare.
Would you like to partner with Mercy Works Inc. to support community development initiatives in Kiunga and the North Fly District of PNG? Find out more.