Archived News Item
Poverty and the elderly: a hidden issue
June 15, 2011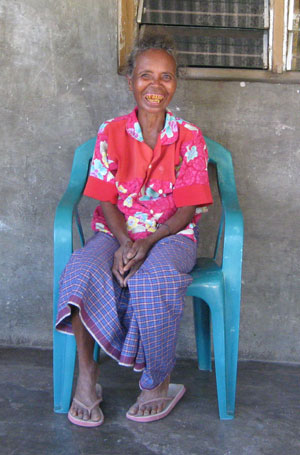 When we consider the needs of developing countries there is a tendency to focus on obvious issues like the plight of children and young mothers or lack of education and employment. But there is one area of need that seems to escape our attention: the problems faced by the elderly, particularly women.
Yet, according to the United Nations Population Division, during the next 45 years, the number of persons in the world aged 60 years or older is expected to almost triple, increasing from 672 million people in 2005, to nearly 1.9 billion by 2050.
Significantly, 60 per cent of older persons today live in developing countries, and by 2050, that proportion will increase to 80 per cent.
These statistics may come as a surprise because we assume that people die younger in developing countries. While average life expectancy continues to be lower in developing countries, the twentieth century has seen an unprecedented transition from higher birth and death rates to lower fertility and mortality.
In developing countries, the number of elderly people is increasing, yet their needs seem to be hidden.
Elderly people are among the most vulnerable in society and older women are particularly so.
As the UN reports, the majority of older people in developing countries enter old age after a lifetime of poverty and deprivation, and limited access to health care and education. Increasingly, they are also susceptible to violence and abuse.
For most of these older people retirement is not an option. Poverty, lack of pensions, and the migration of the young from rural to urban areas are among the factors that compel older people to continue working and supporting family members.
In a statement to mark the International Day of Older Persons on October 1 last year, the UN's High Commissioner for Human Rights, Navi Pillay, said that "millions of older persons around the world face unequal treatment or denial of their human rights, particularly in relation to their right to personal security, health, social security and adequate standard of living".
She named older women as among the most vulnerable, some of them homeless or without a right to inherit from their families, husbands or children.
Pelay's statement is a call to all of us to be aware of the elderly in communities throughout the world, but especially in developing countries. While the needs in developing countries are many, we must keep the plight of the aged in focus.