Archived News Item
PNG sisters farewell Gunnedah sister
March 25, 2009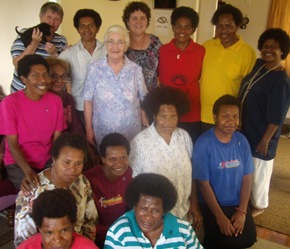 Gunnedah Sister of Mercy, Gaye Lennon will leave Papua New Guinea in the next week having spent the last three years with the PNG Sisters of Mercy establishing the Mercy Works PNG Project. On March 15, the PNG Sisters of Mercy based in the Highlands gathered for a celebratory meal to farewell Gaye. Sister Joan MacGinley reports.
At McAuley House, Mt Hagen, on Sunday March 15, 2009, the Papua New Guinea Mercy Sisters based in the Highlands gathered for a celebratory meal to farewell Sister Gaye Lennon. Since the launching of the Mercy Works PNG project at our golden jubilee celebrations in Goroka in April 2006, Sister Gaye has been the prime mover in putting Mercy Works PNG on a firm footing.
To acknowledge this, we invited Father Gerrard Mulholland SVD to celebrate a Thanksgiving Eucharist on Saturday afternoon in McAuley House. (SEE HOMILY BELOW)
On Sunday after our celebratory meal, the sisters paid tribute to Gaye's expertise and commitment in establishing the Mercy Works PNG Project as a recognised work of Mercy.
On behalf of all of us, and as a token of our appreciation, Sister Theresia Nakankwien presented a billum (string bag ) and a laplap to Gaye.
Gaye responded, assuring us of her continued interest and support for Mercy Works PNG. Gaye intends to call in at regular intervals to see Mercy Works PNG continue to be a living witness to the spiritual and corporal works of Mercy so dear to our beloved foundress, Catherine McAuley.
From: Sister Joan MacGinley RSM
HOMILY BY FATHER GERRARD MULHOLLAND SVD
Goodbye and good luck to Sister Gaye Lennon RSM, 14/3/09
Every Christian has a different perception, I suppose of what their Jesus is like. Some like Jesus holding a little lamb in his arms. Others prefer Jesus of the Divine Mercy, depicted as a man surrounded by little cherubs with bright rays radiating from his sacred heart, but my Jesus is the Jesus who goes into the temple and turns over tables, expels pigeon sellers and strongly rebukes money changers. He is the Jesus with the courage of his convictions. And it is this Jesus we hear about today. He is the one who talks about the destruction of the temple and confuses all and sundry by his claim that he can rebuild the temple in three days.
Like in those times, a huge problem for people in Papua New Guinea today is the pursuit of money and sadly it is pursued on many occasions at any cost. Even to the point of loss of lives. I don't like to sound like a prophet of doom and I hope I am wrong, but much of the injustice, discrimination and lawlessness today, I feel, is related directly to the pursuit of the Kina.
lf Jesus tells us that our bodies are the temples of the Holy Spirit, then these temples are being subjected to the possibility of ruin, through this burning desire of many to gather whatever is possible of an earthly nature. For some of us; certainly for me, it seems an impossible task, to get people to turn around and have a change of heart.
But a great inspiration for me has been the work done by the Sisters of Mercy here in the Highlands. Particularly in Goroka, where I have met and talked with Sister Gaye on several occasions. None of us would ever dare liken ourselves to Jesus in our ministry, but at least there are some among us, who have the courage of their conviction, as Jesus did.
Some weeks ago, Sister Gaye came here to Hagen and spoke with about 30 of us SVDs and challenged us to make a difference to the life of people who are marginalized or shunned by the mainstream society. I undertook in our final sharing of the day to get to know one young person who society has labeled a rascal and give him his name back and try and turn his life around and make a difference to his situation. A big ask, I know.
About three days after our meeting, I was sitting have a nice ham and tomato sandwich in my house at lunch time and there was a knock on my door. That's not unusual, because many students and teachers call to see me. When I opened the door, I was met by the meanest looking character I think I have ever seen. Bearded, barefooted, smelly and looking desperate. He didn't say anything, but he handed me a letter. Let me read it to you. VIEW THE LETTER HERE.
The next day I met him again and went with him and I enrolled him at the Archdiocesan Vocational Centre. I visit him a couple of times a week to check on his progress. He is doing well. If that wasn't the Holy Spirit checking out the courage of my conviction I don't know what it was. That all happened thanks to my friend and our sister, Gaye.
My example is only a drop in the ocean compared to the difference you ladies make here in this country. I have befriended one young fellow who now calls himself an "ex rascal". Gaye knows many rascals and with the help of her team has changed their lives. You ladies have given women back their rightful place, although throughout the country there is much more that needs to be done. Gaye, your work with refugees; your work with rascals; your work with young and old woman alike is commendable. I thank you from the bottom of my heart for putting me in position outside my comfort zone, so I could make a little difference.
I wish you God's richest blessings in your pursuits back in Australia and wherever you go. Poor PNG and lucky Gunnedah. You will leave PNG, but rest assured that you will leave behind many friends, of which I am so proud to be ranked among them. I wish you sisters who will remain here every good wish and blessing in your great apostolic work.