PNG sisters elect new leadership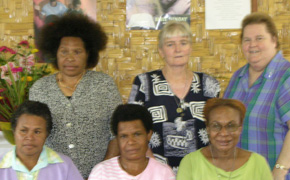 The Sisters of Mercy of Papua New Guinea last week (May 28-31) held their chapter in Goroka to elect a new leader and council. In a message to the Institute, newly elected leader Sister Theresia Tina RSM said: "We are deeply grateful to you all for holding us in prayer during our recent Chapter".
She continued: "We are happy to announce our new leadership: Sisters Theresa Tina RSM, Leader, and Councillors, Sisters Margaret Roni RSM, Claudia Apalenda RSM, Theresia Gongi RSM and Maura O'Shaughnessy RSM.
"We remember you all in prayer with love and gratitude."
From: Sister Theresia Tina RSM