Archived News Item
PNG launch of CROSSINGS IN MERCY
July 1, 2009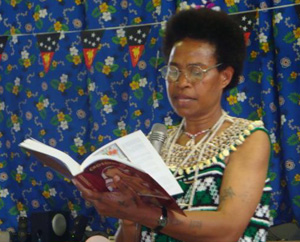 Crossings in Mercy: The Story of the Sisters of Mercy Papua New Guinea, 1956-2006, by Sister Teresa Flaherty RSM, was launched in Australia in 2007. However, the first opportunity for the sisters in PNG to celebrate its publication did not arise until recently. With the gathering of sisters and friends to honour the election of Sister Theresia Tina and her council on May 31, the time was right.
Thankfully, Tess was able to attend this lively occasion, held in Goroka. Bishop Francesco Sarago SVD and a number of priests and people of the diocese were also present.
"The students at Fanifufa School performed action songs as part of the entertainment and a group of Mercy past students delighted us with their traditional dancing," said Sister Joan MacGinley.
"Four extracts from Crossings in Mercy were read by Sisters Maura O'Shaughnessy, Joan MacGinley, Theresia Boyek and MaryAnne Kolkia.
"After World War II the Sisters of Mercy in Australia and elsewhere responded to requests from the Church and the United Nations on behalf of developing countries. So in 1956 the first Sisters of Mercy came to Goroka."
Read Crossings in Mercy to know more.
Messages to: Sister Joan MacGinley RSM at betterworld@dg.com.pg