Archived News Item
PNG hosts programme for Institute candidates
March 24, 2009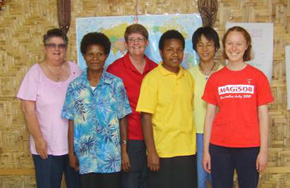 Earlier this year, six candidates of the Institute of Sisters of Mercy of Australia participated in a combined formation programme at Goroka in Papua New Guinea. Candidates share with readers their vision statement written during the experience, while Sister Kaye Evans RSM provides a report on the five-week programme.
INITIAL FORMATION PROGRAMME
Papua New Guinea, January 12 – February 20, 2009
Report from Kaye Evans RSM
Participants: Rachel Waisman, Bernadine Kavi, Cathy Jambet (PNG), Anne McGuire, Desma Clarke, (Rockhampton), Elizabeth Young, Barbara Broad (Adelaide), Helen Glasheen, Sophie Nguyen, Anne Ryan (Melbourne), Kaye Evans.
Anne and Desma arrived in PNG a few days prior to the beginning of the programme and spent some enjoyable time at Coolock House with the PNG women.
The rest of us arrived in Goroka on the afternoon of Sunday January 11. We discovered then that the new building in the grounds of Coolock House was not finished and we were to stay at the Kefamo Pastoral Centre for two weeks. Father Valentine (Director of the Centre) and his staff of three local women were so welcoming and hospitable. So we were well settled in by the evening and ready for the days ahead.
Our programme began on the Monday morning with a welcome from Cathy and an orientation experience, "Colours of my life", prepared by Desma and Cathy. This helped us begin to feel some familiarity with each other, our surroundings and some of the local language. Barb built on this introduction and led us through the rest of the week, opening up the question "Who am I?" – reflecting on family of origin, perception of power within family and other groups, and communication styles and theory.
The second week we explored these themes further through prayerfully looking at our personal cultural journeys – mapping of life paths, looking at the cultures of our countries of origin, power in culture and dimensions of diversity. These two weeks concluded with a ritual of shaping and reshaping 'new hearts' – symbolic of the journeys and learnings the days had opened up for us.
Anne Mc and Desma left to return home on the Wednesday of this second week – leaving a gap in the group, but with valuable memories and connections for all of us.
As we moved into the third week, we moved across the road from the Pastoral Centre to Kefamo Conference Centre. We were very fortunate that this centre had no other groups booked in and we could remain for the two weeks.
"The culture we inherit as vowed Sisters of Mercy" was the theme of this week. We shared stories of Catherine and the aspects of her life and ministry which had special meaning for each of us. The candidates planned and presented a play incorporating their favourite scenes from Catherine's life. It was a delightful and very moving performance – and not just a performance, as these women really expressed their knowledge of and growing relationship with Catherine. The circle of Mercy was truly timeless and wonderfully alive at this moment here in PNG! The latter part of the week took us to the wider perspective of Mercy at work in the local areas but also the whole global interconnectedness – "Where in the world are my sisters?" Awareness of the global dimensions of Mercy really inspired the candidates who then were determined to write a statement which could be published in Mercy M@tters. (See attached "The Vision of the Sisters of Mercy New Members") and "Great opportunities to contribute, not just receive." (Elizabeth Young)
Week four took us into the Constitutions. During these days we studied and reflected on our life of union in Christ and our understanding of the vows today. Again the candidates explored their own responses through a variety of creative experiences. They spent many hours planning, preparing and refining their statement and presentations and in this time together forged strong bonds of Mercy sisterhood. "The engagement and enthusiasm of formators and newer members together had a profound effect on me. I had a deep sense of humility and equality. I believe that all of us were valued as women imbued with a passion for life in the service of God's people, in the tradition of Catherine McAuley." (Anne McGuire)
Apart from the planned programme we had the opportunity for so many other experiences. Gaye Lennon and the other sisters involved with the Mercy Works PNG Project were so generous in offering time and resources and, particularly, inviting us to participate in some of their ministries. We each had the opportunity to visit the women's prison and spend some hours joining with whatever activities were planned. We also visited a number of the settlements, centres of great poverty where 'displaced' people are trying to make lives for themselves with no resources at all. All of us deeply moved by the poverty we were witnessing and learning more about.
Cathy Jambet was just wonderfully generous in planning for us, in her readiness to take us on all kinds of sightseeing tours, and to drive us to town for any errands. One day she arranged for us to take a PMV to visit Kainandu Cultural Centre for a tour of the pottery, where we had the opportunity to watch potters at work. The visit to the centre was in itself most informative and enjoyable, but the trip also gave us the chance to see some of the breath-taking beauty of the country.
On Sundays the local bishop and SVD priests at Kefamo travel to different centres for Mass celebrations and invited us to go with them, so we had wonderful choices and possibilities for meeting people, seeing the nearby villages and out-stations and the fantastic countryside. Just like the disciples coming back to Jesus with their tales of ministry, we came back to each other after each excursion with all kinds of experiences and stories to share!
Our experience in PNG was certainly intensified with Petronia's death. We had the privilege of being with the Goroka sisters in their initial shock and grief. Fortunately we were able to arrange our timetable so that we could travel from Goroka to Wewak to be present at Petronia's funeral. Those days were full of sadness but they also allowed us simply to be with our sisters and to share in the particular cultural aspects of preparation for burial, family and community expressions of grief, the funeral and days of 'Haus Krai' which followed, culminating in the feast which signalled the end of the formal time of grieving. All the Sisters of Mercy in PNG were gathered at Wewak so we had the opportunity to share intimately in those days together and to connect with sisters we would not otherwise have had the chance to meet. The "Circle of Mercy" had particular poignancy as we joined hands and sang around the freshly filled-in grave after the funeral. Petronia had been so delighted that the combined formation programme was being held in PNG and was so disappointed that her ill health had prevented her from being in Goroka to welcome us on our arrival.
I think our time proved to be very rich and profound, particularly for the candidates, all of whom entered so wholeheartedly into each day. I don't think I could possibly capture all that had touched our minds, hearts and, indeed, all our senses during these days.
During the course of these weeks we were faced with a number of challenges – being away from home places, working and living closely within a 'different' community and environment, being in a place of obvious poverty and potential violence, meeting expressions of our Catholic faith which seemed to come from another era, and so forth. At the same time, we experienced companionship, warm generosity from our sisters and many others, saw the beauty of people and land, and were led in unique ways into personal and communal explorations of Mercy called forth and alive in our world today. And the journey will continue for each of us!
We certainly discovered how true were Cathy's words as she greeted us on that first day – "Welcome to the land of the unexpected!"
Kaye Evans RSM
March 2009