Archived News Item
PNG holds first chapter as autonomous region
September 27, 2007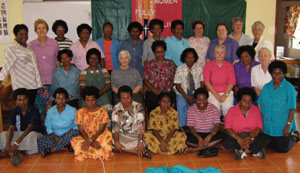 Congratulations to our sisters in Papua New Guinea who have just completed their first Chapter as an autonomous region. The Chapter dealt with many issues important to their integrity of life as Sisters of Mercy and elected their new leadership. Hilda Yangele, one of the novices, reports on this important event.
The Sisters of Mercy of the autonomous Region of Papua New Guinea had their first Regional Assembly for Chapter at the Kefamo Conference Centre in Goroka from September 15-24.
There were 17 Melanesian sisters and six expatriate sisters as delegates from within the autonomous region of the Sisters of Mercy of Papua New Guinea.
I, Hilda Yangele, the second year candidate of the Sisters of Mercy joined in many of the activities during the Assembly for Chapter. A first year candidate, Kunnie Kalango and I were invited to participate in many sessions and the presentations of the reports.
Several visiting sisters joined us in Goroka. Sisters Nerida Tinkler and Karon Donellon from the Institute, Sister Sue Smith from Brisbane Congregation, Sister Gwen Garland from Goulburn Congregation, and Sisters Maureen Sexton and Catherine Corbett who are working with refugees in Kiunga, Western Province. All the visiting sisters joined us for liturgies and many other sessions during the Assembly.
Our current Regional Leader Sister Mariska Kua officially closed the Assembly for Chapter on Saturday September 22 and then we celebrated Eucharist with the new leader and council.
The new Regional Leader is Sister Petronia Gawi and the Vicar is Sister Theresia Tina. The councillors are Sisters Angeline Singiat, Margaret Roni and Terry Gongi. This new leadership will begin on January 1, 2008.
I would like to acknowledge the presence of each sister at our Assembly and I felt the loving presence of God in each sister who contributed in one way or another during our Assembly for Chapter.
I was very grateful to be part of our first Regional Assembly. Those days were a great experience for me to discover and explore more about the Sisters of Mercy of Papua New Guinea.
From: Hilda Yangele, Mercy Candidate, Coolock House Goroka, Papua New Guinea
Messages can be sent to Helen White, Email: hmtwhite@online.net.pg