Archived News Item
PNG farm project underway for at-risk young men
December 3, 2009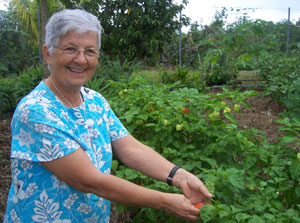 On a recent field trip to Papua New Guinea, Mercy Works Inc. Executive Officer, Sister Rosie Carroll, visited the Emmaus Farm Project in Kiunga.
Co-ordinated by the Diocese of Daru-Kiunga with support from Mercy Works Inc., this project will not only help disadvantaged young men in the remote Western Province gain farming skills and employment, but also create more sustainable agricultural practices in the area.
While the farm is still in the building phase due to delays caused by heavy rains and the slow arrival of materials, Rosie says there has been significant progress in the last few months.
"An access road has been built and about 17 acres of land cleared in preparation for a forest plantation. A large garden of sweet potatoes, chilli and ginger has been planted, as well as hundreds of fruit trees," she reports.
"Building construction is well underway and the electricity connection is coming. The Department of Agriculture in Kiunga has recognised the value of the project and will offer training for the young men.
"Once all buildings have been completed, the farm will be home for 20 young men and a few live-in support staff, but already, some of the young men have been involved in the construction phase," she explains.
Organic agriculture will be a priority on the farm. Participants will learn to grow rice, vegetables and fruits for their own consumption and to sell locally. There will be opportunities to acquire other skills, such as bee and poultry farming, fishpond construction, making peanut butter, carpentry, and the repair of bicycles, sewing machines and shoes.
Business management, practical mathematics and English will also be taught, enabling individuals to start their own business once they are at ease in a skill.
The aim of the farm is to make young men self reliant on their land and active in the development of their community.
The project commenced in late 2008 and is expected to be fully operational in 2010.