Archived News Item
Platinum jubilee celebration: Townsville
December 15, 2009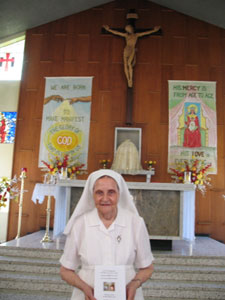 On Mercy Day 2009, the Townsville Congregation celebrated the Feast of Our Lady of Mercy and the platinum jubilee of profession of Mary Raymond Hammond RSM. Margery Daly RSM (Townsville) reports.
Sister Mary Raymond and her many relatives, including her two remaining sisters from a large family, together with our sisters and friends, entered our beautifully decorated chapel on The Strand to celebrate the 70th anniversary of her profession as a Sister of Mercy.
Father Mick Peters was the main celebrant of the Mass, accompanied by several of our priests from the diocese. The hymns sung during the Mass were chosen by the jubilarian and included "Mother of Mercy" and "Suscipe of Catherine McAuley" – sung by the whole congregation.
During the Mass, all our sisters joined with Raymond in renewing our vows, and at the end of Mass, Father Mick presented her with the Papal Blessing.
In her early years as a religious, Raymond had taught in many schools in the diocese and even in semi-retirement (due to declining health) at The Strand, did library duties at the College and worked on the congregation history. Raymond is now living in retirement at Villa Vincent and has been and still is a well-known Mercy presence there.
After the Mass, the celebration continued in the sisters' dining room with a beautiful luncheon followed by speeches and tributes, and the cutting of the jubilee cake to the tune of the traditional "Jubilee Song" sung by the sisters.
All wish Raymond many blessings in her continuing life as a daughter of Catherine McAuley.
From: Margery Daly RSM (Local Communications Facilitator, Townsville)