Archived News Item
Perth sisters follow in footsteps of Ursula Frayne
March 1, 2007
As Melbourne Sisters of Mercy this year celebrate 150 years since the arrival of the first Sister of Mercy, Perth sisters celebrate the sending forth of the three sisters who made the trek to the east coast and founded the Melbourne congregation.
This week, fourteen Perth sisters are following in the footsteps of those three sisters – Ursula Frayne, Anne Xavier Dillon and Joseph Sherlock. But their journey will be much more comfortable. The sisters know where they are going and where they will land. Their flight across the Nullabor will take about four hours; the original group were on a ship from January 22 until March 6!
There is a strong sense of connection at this time when the Melbourne sisters celebrate 150 years of foundation and the Perth sisters celebrate the sending forth of Ursula, Anne Xavier and Joseph to the other side of the desert. Anne Xavier and Joseph accompanied Ursula because the bishop would only allow sisters who had not been professed in Perth to transfer!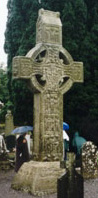 Responding to the request for each congregation to take something of historical significance to the Melbourne celebrations, Perth congregation is taking the Cross of Muiredach (pictured), strengthening the connection between Dublin, Perth and Melbourne.
This cross was a gift from the Sisters of Mercy of Ireland on the occasion of the 150th anniversary of the arrival of the Sisters of Mercy in Australia (1846).
Considered to be the finest cross of its type in Ireland, the Cross of Muiredach originated at Monasterboice, a monastery in County Louth. It was named after Abbott Muiredach, the son of Domnall who died in 922 CE.
The original cross stands 16 foot high and is said to have been crafted between 900 and 923 CE.
From: Sister Joan Smith RSM (Local Communications Facilitator, Perth)
Email: joanis@ozemail.com.au