Archived News Item
Perth sister sings in Aboriginal language at international festival
March 1, 2007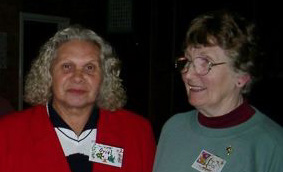 Sister Josephine Dillon (Perth) recently joined with many other Western Australians at the opening of the International Perth Festival to sing a specially composed piece in the language of the local Aboriginal group, the Noongar people. Josephine, who, for many years has been a member of the Mirrabooka Reconciliation Group, writes about the experience.

The opening of the 2007 Perth International Arts Festival was quite spectacular indeed. After a "Welcome to Country" by the Noongar Elders, the massed Choir of the West Australian community raised their voices to sing in the Noongar language – "Welcome to Country". Many of the members of the group had never had choir experience!
A specially commissioned Human Family Overture by composer Ian Grandage was accompanied on screen by photographic images from regional communities around Western Australia.
It was a fantastic experience to sing with so many people and an added bonus was singing in the Noongar language. We were tutored on the pronunciation by local Aboriginal people.
Two young Aboriginal women introduced the Overture with a duet before the whole choir came in – sopranos, altos, tenors and bass. The accompaniment was supplied by a percussion band who even produced a huge eruption of bird calls at the conclusion of part one.
It was a huge experience for us singers and the crowd of families gathered seemed to thoroughly enjoy it too.
Following this, we went into another mode and viewed the exclusive Australian Premiere of "Peter and the Wolf" directed by Suzie Templeton and filmed on a lavish set in Poland. While the film was projected onto massive outdoor screens, the internationally acclaimed Australian Youth Orchestra played Prokofieu's classic masterpiece "Peter and the Wolf".
Photo: Sister Jo Dillon with a local Aboriginal woman.
From: Sister Joan Smith (Local Communications Facilitator, Perth)
Email: joanis@ozemail.com.au