Perth Sister of Mercy's refugee story featured in new book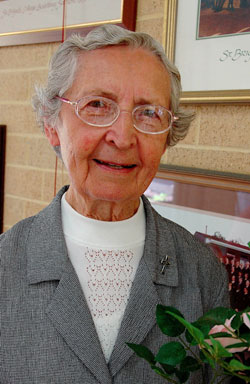 Sister Irena Kasprzyk of Perth Congregation is one of ten women to have her experience as a refugee published in a new book called Leaving Home: Ten Refugee Women Tell Their Stories.
At the age of ten, Irena was one of 1.7 million Polish citizens deported from their homes to forced labour camps in frozen Siberia and Kazakhstan. Less than one third survived.
What follows are some extracts from Irena's story:
"We lived a happy family life at Bakanow in north-eastern Poland, close to the town of Baranowicze and the Russian border – a 38 acre farm given to Dad as a reward for his military service during World War I…"
"… Dad left to join the army in July 1939… as we went to school we would hear the planes and machine guns – sometimes the planes would swoop down so low they could see us… In September 1939 the Russian army marched into Poland… the very morning my Dad came home we were all dragged outside. We knew that as an ex-soldier dad would be considered an enemy…
"They dragged us outside at gun point. They knocked dad down with their rifles… they kept calling out "˜Put them inside the house and burn them'. We knew this was possible as it had happened to other families… 350 people had been placed in a hay shed and all were burnt. Finally they left us alone."
"… on 15th February 1940 at three o'clock in the morning there was banging on the door – soldiers came swarming into the house… Mum gathered some clothing – in preparation for this she had sewn silver coins into the hems etc. Mum was three months pregnant and there were my small brothers John and Felix… we joined the long line of people walking… then we were locked into the cattle wagons. Windows were slits, there was no toilet…"
Irena's story may be read in Leaving Home published by Ishar Multicultural Centre for Women's Health. Email: info@ishar.org.au Phone: (08) 9345 5335 Website: www.ishar.org.au
From: Sister Joan Smith RSM (Local Communications Facilitator)
Email: joanis@ozemail.com.au