Archived News Item
Perth sister new director of Aboriginal advocacy centre
April 12, 2007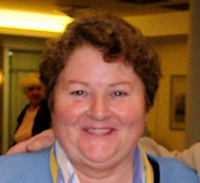 Perth Sister of Mercy Dolores Coffey was commissioned recently as Director of Daydawn Advocacy Centre, a new ministry supporting Indigenous people in the Archdiocese of Perth. Sister Joan Smith reports.
Sister Dolores Coffey, in being missioned as the Director of Daydawn Advocacy Centre, is continuing the ministry to which Ursula Frayne and the early Sisters of Mercy were called. With so many sisters present at the opening, there seemed to be a strong sense that this centre near the heart of the city of Perth is truly continuing the spirit of Ursula Frayne. The original call to mission in Perth was to education "to these thousands of children who had no one to break bread for them". While this was grossly exaggerated, Ursula persevered and opened the first school for Aboriginal children. As time went on she realised that there were other social needs in relation to Aboriginal people.
The opening ritual commenced in Weld Park – already a place of Aboriginal gathering – and opposite the site of Daydawn. In the story of Sisters of Mercy and their partnering with Aboriginal people, this place is like the joining of the Circle of Mercy. Over the years, sisters have walked with Aboriginal people across the State – Broome, Mularn, Balgo, Halls Creek, Kalgoorlie, Coolgardie, Mirrabooka, Norseman, Billiluna, Leonora, Transline. However, the ministry commenced in the city, and Ursula led the way visiting homes around this same area. This ministry of visitation continued, especially by Sisters Mary Dolores Serisier, Raphael Coady and Bernadine Daly (West Perth). Now in 2007 in this sacred area, the sisters, through Dolores, once again continue the story.
The ritual had some very rich symbols: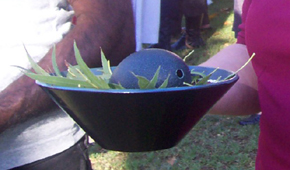 The emu egg, filled with eucalypt scented water was used to sprinkle the site – an ancient practice of the Noongar people.
The cross made from local branches by Mort an Aboriginal Elder from the Uniting Church
The language of the Noongar people and English were used for the "Our Father", "Welcome" and "Blessings".
The Daydawn Symbol showing the rising of the sun expressing hope and warmth and the Cross rising out of the centre – a reminder of the suffering of Jesus and the Aboriginal people.
The blessings of the Perth Congregation go with Dolores as she continues walking with Aboriginal peoples in the inner city. The framed picture of Ursula in the meeting place will be a reminder of a very rich and ongoing mercy story.
Speaking at the opening, Archbishop Barry Hickey said: "Not only will Daydawn promote the legitimate aspirations of indigenous people and help them claim their rights to proper housing, education and other community services, it will also stand in solidarity with them in securing their proper and respectful place within the Church and the Australian community."
Detailed information about Daydawn – its hopes, dreams and vision is available from Dolores Coffey RSM. Her email is dcoffey@mercy.org.au
From: Sister Joan Smith RSM (Local Communications Facilitator, Perth)
Email: joanis@ozemail.com.au