Archived News Item
Perth hosts annual Institute finance conference
August 12, 2009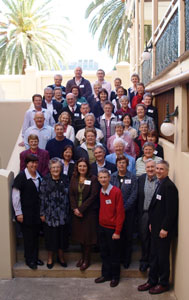 Bright sunny days welcomed participants to the annual Mercy Finance Conference held in Perth recently. Mr Digby Claydon, one of Finance Manager of the Perth and West Perth Congregations, reports.
"The annual Sisters of Mercy Finance Conference was held in Perth at the Victoria Square Conference Centre on August 3 and 4. A total of 42 delegates attended representing all Australian Congregations as well as the ISMA Finance Committee, and in addition, the Finance Manager from the Sisters of Mercy New Zealand also attended for the first time.
"The two-day conference covered topics including Investment Outlook, Economic Update, Accounting Standards in the Not for Profit Sector, Employment legislation, Health Insurance, General Insurances and risk management.
"Some of the letters of Catherine McAuley were also studied, lead by Sister Mary Duffy from the Melbourne Congregation. Sister Margaret Endicott (Brisbane) was the Conference facilitator.
"A conference dinner was hosted by the Perth and West Perth Congregations at St Brigid's Convent and Administration Centre in Northbridge.
"The 2010 Conference will be hosted by the Queensland Congregations."
From: Marie Fitzgerald Local Communications Facilitator, Perth