Archived News Item
Parramatta celebrates 120th anniversary
February 8, 2009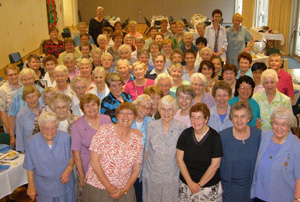 On December 8, 2008, the Sisters of Parramatta and other Sisters of Mercy who live and work with them both nationally and internationally, gathered at the Mother Mary Clare Memorial Chapel at Parramatta to celebrate the day when Mother Clare Dunphy led eight sisters to Australia from Callan, County Kilkenny in 1888, at the invitation of Cardinal Moran, the then Archbishop of Sydney.
The first Mass in the Convent was celebrated on December 8, 1888 by Dr D. Horan, Cardinal Moran's secretary.
The Eucharistic celebration marked the opening of the Clare Memorial Chapel in 1938 and honoured our musical heritage with hymns which were composed for the congregation for that occasion.
Following the Eucharist, we sojourned across the road to Murphy House for dinner. The evening was particularly graced by the presence of the Institute Leadership Team.
From: Sister Marie Butcher RSM (Local Communications Facilitator, Parramatta)