Archived News Item
Parishes Can't Ignore Domestic Violence
July 30, 2019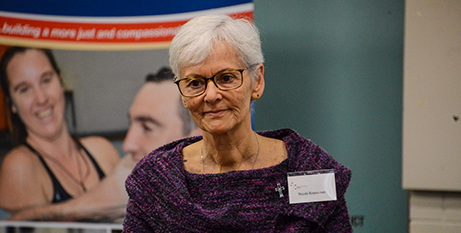 "Families are a vital part of parish life. We want to promote strong and flourishing families and relationships," Sr Nicole Rotaru said. "Knowing this, we can no longer ignore the critical issue of domestic violence within our local communities, and the Gospel mandate that calls us to do something about this."
For the past 12 months, Sr Nicole has been offering information and training workshops to parish communities and Catholic organisations in Melbourne and surrounding areas. She is part of the Domestic Violence Working Group auspiced by Catholic Social Services Victoria.
Sr Nicole said the Victorian Royal Commission into Family Violence encourages faith communities to be proactive about educating their people around domestic violence. Recommendation 165 of the Royal Commission into Family Violence, states: faith leaders and communities establish processes for examining the ways in which they currently respond to family violence in their communities and whether any of their practices operate as deterrents to the prevention or reporting of, or recovery from, family violence or are used by perpetrators to excuse or condone abusive behaviour.
"This is a clear directive that faith communities have a significant role to play in helping to prevent domestic violence," Sr Nicole said. "When we understand domestic violence, what it is, what it looks like, and how we can respond, parish and faith communities are better able to implement preventative measures."
Some Melbourne parishes have taken up Sr Nicole's invitation to delve into the topic "Domestic Violence: What is it? What supports are available?"
The workshop provides an understanding of what domestic violence is, the various ways in which it is perpetrated and a closer examination of the impact that domestic violence has on women and children.
"It's not a case of parishioners needing to know all of the answers or needing to act on behalf of women. That's not their job. It takes away the independence of the woman," Sr Nicole said. "Rather, it's for us to be aware of and to know where are the places that we can get professional guidance and help for someone affected by domestic violence. This is an emphasis in the workshop."
Full Story:  Parish communities play a vital role in preventing domestic violence (Melbourne Catholic) – https://melbournecatholic.org.au/News/parish-communities-play-a-vital-role-in-preventing-domestic-violence
Click Here to Return to Just Mercy