Archived News Item
Paramatta sisters welcome new candidate
September 8, 2010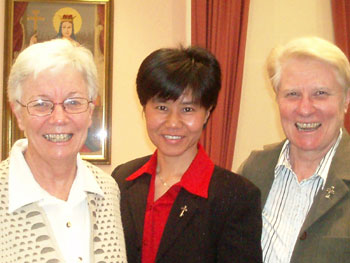 Over 50 Sisters of Mercy and friends gathered recently to celebrate Katrina (Yin Yin) Zhang's reception as a candidate of the Parramatta Sisters of Mercy. Margaret Sheppard RSM (Parramatta) reports.
"Katrina, the congregation is pleased to accept you into this phase of initial formation… We pledge to support you as you start your Mercy journey."
On July 22, these words of support and commitment were addressed by Ailsa Mackinnon RSM, Congregation Leader, to our new candidate, Katrina (Yin Yin) Zhang, and heralded the beginning of a Rite of Initiation which was rich in symbol and word.
Taking place in the Catherine McAuley Rooms in the 'mother house' of the Sisters of Mercy, Parramatta, the connection with our beginnings in western Sydney and a sense of 're-founding' through the admission of a new member into the congregation, was vividly portrayed through the prayer setting.
This focal point for the ceremony was decorated with sprigs of camellias which have grown over decades outside the room where the reception took place. These same sprigs became branches of 'blessing' as Ailsa moved among the 50 Sisters of Mercy and some Mercy colleagues sprinkling them with water brought to Parramatta especially for the occasion.
Katrina, as Ailsa reminded all gathered, comes with a wealth of experience and wisdom, having lived her faith in her early years within a persecuted Church in China. Whilst Katrina's mother and family were unable to be present for the reception, they were certainly present 'in spirit' and were remembered especially in the prayers of intercession.
A particularly poignant feature of Katrina is her birth name, Yin Yin, given to her by her father; a name meaning 'beautiful poetry and music' and one which speaks of the beautiful gift that Katrina brings to Mercy religious life through her very presence amongst us.
A scrumptous Chinese feast, generously prepared by Maria Zhao RSM, her friend, Marie, and our Mercy colleagues from the congregation administration, provided foods which were delicious in aroma and taste. The feast was followed with a cake decorated with Katrina's (Yin Yin's) name and other symbols to mark this special occasion.
Ailsa's words of blessing expressed a sense of hope and promise for Katrina and for all gathered: "Katrina, as you have come to learn from us, so we will learn from you… May you share your gifts, in particular your creativity, your resilience and your tender care of the sick with us and with all you are called to serve."
From: Margaret Sheppard RSM (Parramatta)