Archived News Item
Papua New Guinea: Child Labour – a worldwide problem
June 22, 2012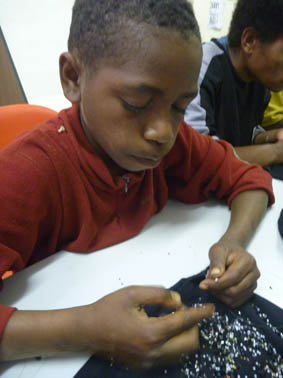 The problem of children being forced into work is one of the world's pressing issues. In 2006 the International Labour Organisation (ILO) set a visionary target of bringing to an end all the worst forms of child labour by 2016.
Sadly the ILO's Global Report on progress in 2010 suggests that, although progress has been made, the pace is not fast enough to achieve the 2016 target. Between 2004 and 2008, the global number of child labourers declined just 3% – from 222 million to 215 million.
Progress was greatest among children aged 5-14, where the number of child labourers fell by 10%. Child labour among girls decreased by 15%. However, it increased among boys (by 8 million or 7%). What's more, child labour among young people aged 15 to 17 increased by 20 per cent, from 52 million to 62 million.
Despite being a vibrant economic zone, the Asia Pacific is also home to more working children than any other region in the world, with approximately 122 million children aged 5-14 years compelled to work for their survival.
Taxi Boys learning to make necklaces
as part of the youth development program.
In PNG, child labour is deemed to be illegal. However the definition of child labour is where children are forced to engage in work 'against their will'. Given the pressure for survival, many children in PNG 'willingly' submit to work, often in appalling conditions.
The problem occurs both in rural and urbanised areas. In rural regions children are often made to work on plantations, sometimes because of poverty, sometimes because of shortages of adult labour. Through working in adult environment young children are easily manipulated and often introduced to smoking and drinking alcohol.
In urban areas children are forced to work in drug trafficking and begging, collection and handling scrap metals and chemicals and carrying heavy loads. Many are subjected to psychological, physical and verbal abuse. Child prostitution is also common with many cases in PNG of child sex workers with HIV/AIDS.
The taxi boys of Mt Hagen
In Australia, we might think of a taxi as a nice car that transports us around town, but in Mt Hagen, a taxi is young boy who carries market bags from the town gate to Mt Hagen market. This might not seem too bad, but consider that the boys are aged between 8 and 15 and the average bag weighs 20kg.
In developed countries, a healthy weight for an 8 year old boy is around 24-27kg. This means they are routinely carrying their own body weight. Many carry bags up to twice their own body weight. All for around 30-40 toea (14-15 cents). In one day alone they could cart over 12 tons of loads to the market. No wonder the other term for a taxi boy is 'camel' – that's exactly how they're treated.
From such abusive child labour, it's an easy step for the taxi boys to move into crime. Compared to hauling your own body weight all day long, stealing might seem an easy option.
In conjunction with the Mt Hagen Community Policing Unit and Correction Service, Mercy Works has been running activities that aim to help adolescents and children in the area, including the following two.
Youth Personal Development Program
This program encourages adolescents, especially those who have completed Grade 10 – 12 to gain more positive thinking, self-motivation and to improve their behaviour. They attend a one hour class twice a month at the police barracks. It's hoped that through these classes the young people can envisage a life beyond carrying heavy bags or crime to something more constructive and rewarding.
Mercy Works is also helping to bring school leavers in contact with learning institutions and employers in the area. Through this program, several young people have already gone on to further education and found employment. There are, however, plenty of young taxi boys to take their places on the program.
The Mercy Swans
Aussie Rules football is also being used to help children think of themselves as more than simply 'camels' for the market. A number of teams have already been established: U10, U13, U15 boys and and U15 girls. The children themselves decided to call themselves the Mercy Swans after the Sydney team's name.
In addition to having a positive impact on the lives of Mt Hagen's taxi boys, the teams are also breaking down community barriers. The children of correction and police officers play in the teams with the taxi boys and have formed friendships. Some have even asked their parents to invite the disadvantaged children to their homes to spend the night and to clothe them. Without their shared interest in football, this breakdown in social barriers might never take place.