Archived News Item
Papal recognition for Bathurst Mercy
March 29, 2007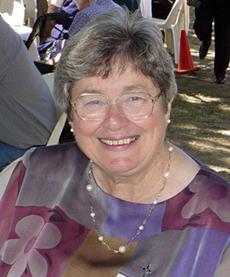 Sister Patricia Powell has received a papal award in recognition of her work in the Bathurst Diocese. The Holy Cross Pro Ecclesia et Pontifice (for Church and Pope) medal is given for "distinguished service to the Church by lay people and clergy." It is the highest medal that can be awarded to the laity by the pope.
In seeking this honour for Patricia, Bishop Patrick Dougherty, Bishop of Bathurst Diocese, says he wanted to give recognition to the work of all Sisters of Mercy in the diocese.
Our warmest congratulations Patricia! This is certainly a first amongst us. While we appreciate the bishop linking the award to all Bathurst Sisters of Mercy, there is, nevertheless, a clear recognition of Patricia's work among the lay people in the diocese both over these last three years, during her ten years as Congregation Leader, and her previous ten years working with the Aboriginal community in Dubbo.
Patricia will receive this award at the Vigil Mass on Palm Sunday in Kandos, the place Patricia calls home when she is not on the road!
From: Sister Ann-Maree O'Beirne RSM (Local Communications Facilitator, Bathurst)
Email: aobeirne@mercy.org.au