Archived News Item
Pakistani educator pays tribute to Sister of Mercy
November 5, 2009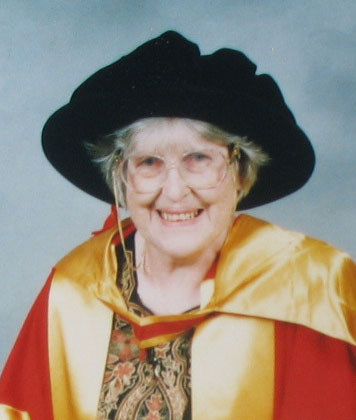 Gabrielle Jennings RSM (Melbourne) was the founding Director of the Notre Dame Institute of Education (NDIE), a university-accredited teacher education faculty in Karachi, Pakistan. In 2003, Gabrielle died after a long battle with cancer, but her legacy as an educator lives on. In an article published by UNESCO, former NDIE student, Minhas Tejani, pays tribute to Gabrielle, describing her as "a great teacher and a true mentor".
Gabrielle Jennings RSM: A true mentor
By Minhas Tejani
This is a story of a great teacher and a true mentor who has changed me particularly as a teacher and leader. I have been in the field of education for the last twenty years. Over this period of time I have seen myself evolve immensely in my professional life. As a novice teacher I had a lot of enthusiasm to teach and to make a difference. I tried out various strategies in the class but did not know the right pedagogy to teach the concepts.
There was always an urge to learn more by getting professional education.
My elder brother told me about Notre Dame Institute of Education (NDIE), Karachi. I went there to get the registration form. My first interaction with Sister Gabrielle Jennings, the first Director of the institute, was an inspiring one. She had a lot of humility. Yet, as a leader she was very assertive too.
I was very excited when I got selected for my BEd course at NDIE. I was always trying to put in my best effort in all the activities. During the teaching practice I was sent to St Michael's School. I was a bit nervous as I was teaching a senior class.
On the first day I had a science lesson in grade eighth. I didn't know that Sister Gabrielle would come for an observation. She came and sat in my class. While I saw her sitting at the back of the class I went blank and forgot my lesson. I somehow completed the lesson but I was not very happy with my performance.
Sister Gabrielle came to give feedback.
I knew I was in trouble. She discussed her feedback without anyone around which gave me a lot of confidence. She asked me a very simple question, "What happened Minhas?" I was a bit reluctant to respond. She spoke, comforting and dignified, "I guess it was because of my presence…. This is what happens with many students whom I observe. Being the Director of the Institute a lot of people needlessly fear me". Her words gave me a sigh of relief. She continued to give me confidence. I successfully completed my teaching practice and was amongst the five most outstanding students of the class.
This may seem to be a very small incident but it has changed my life. If the situation had been mishandled, as is often the case, I would not have been the way I am now. One insensitive word at this point would have shattered my confidence forever.
Sister Gabrielle is no longer in this world but her contributions towards the betterment of education in Pakistan are enormous. Through NDIE a niche of true educational leaders has been developed in Pakistan. We aren't many but gradually we are bringing meaningful and sustainable change. We live in the hope that we too can bring big change in small ways, like Sister Gabrielle.
The author has been in the field of education for the last twenty years. Currently he is working as an independent educational consultant.
Source: Teacher Education in Pakistan, UNESCO Islamabad. Minhas' article "A True Mentor" can be downloaded as a PDF here.
Editor's note: Gabrielle Jennings RSM died in 2003 after a long battle with cancer. Readers may be interested to read Catching the Dream – Memories of My Sister Gabrielle, by Carla Jennings.